Fernando Alonso: Second place in Valencia shows Ferrari is closing on Red Bull Racing
| | |
| --- | --- |
| By Jonathan Noble and Matt Beer | Sunday, June 26th 2011, 14:15 GMT |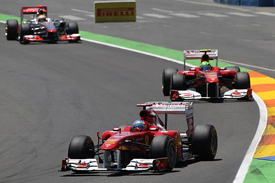 Fernando Alonso described splitting the Red Bulls in the European Grand Prix as a 'great achievement' for Ferrari, and evidence that the team is getting much closer to winning.
Alonso moved up to third at the start and had a race-long battle with Mark Webber's Red Bull - passing it on track in the second stint, falling behind again at the second pitstops, and then finally taking the place for good during the final pit sequence.
"It was an interesting race for the fans and people on TV, to see the fight with Webber all the race through," said Alonso. "At the beginning of the race I was behind him, trying to not be too far away, and have a benefit in the pitstop and an opportunity to overtake him.
"We had an opportunity in the middle of race when I overtook him at Turn 12. They did a good stop and overtook us and then at final stop the team did a good strategy and we overtook him. Quite a bit of changing positions between Mark and me.
"Second place is the maximum we can have these days, so being here between the Red Bull Racing cars is a great achievement.
"Monaco was a good performance to finish second, Canada a good performance but we didn't score and here second is a great team result.
"We are definitely moving in the right direction and will get closer to them at the next races."
Alonso underlined that Ferrari had already made great progress since its troubled early races.
"I think we all in Ferrari know our tifosi is expecting us to win," he said. "At the moment we are not in that position. We are getting much closer. In first few races we were 1.5 seconds behind, now it is six or seven tenths, so we have halved it. We will not stop working until we reach the performance of the car."