Ullrich: Risky tyre strategy right call
| | |
| --- | --- |
| By Stuart Codling and Simon Strang | Sunday, June 12th 2011, 17:07 GMT |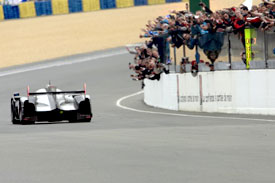 Audi Sport boss Dr Wolfgang Ullrich has described the thinking behind the risky tyre strategy which ultimately enabled the marque to claim its 10th Le Mans win.
The victorious #2 Audi was tasked with doing two unprecedented five stint runs on a single set of tyres, which was deemed a necessary tactic to reduce its total pitstop time while Peugeot's chasing 908s were able to do at least one extra lap per stint.
"Our Peugeot rivals were as strong as ever, with four cars against us," said Ullrich. "I had to ask our drivers to do something very difficult - to go as fast as they could but take no risks.
"We knew from testing that we could do five stints on one set of tyres, and it was that strategy that enabled us to succeed. We asked a lot of our drivers. We knew that Peugeot would be able to do an extra lap so we had to take the risk. The Peugeot drivers did their jobs perfectly."
The strategy was neary undone less than an hour from the flag when Andre Lotterer picked up a puncture and the team was forced to do another stop earlier than planned, leaving the #2 Audi exposed to Simon Pagenaud's charging Peugeot.
"We had a left-rear puncture, which was why we had to stop and change tyres when we did [in the last hour]. We were very close to our fuel window - very close. Another lap and we would not have finished the race."