Hildebrand most upset for team
| | |
| --- | --- |
| By Matt Beer | Monday, May 30th 2011, 04:42 GMT |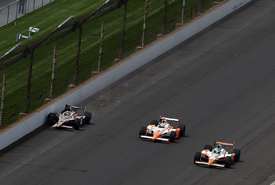 JR Hildebrand said he was more upset for his Panther Racing team and its sponsors than he was sad for himself after crashing out of the Indianapolis 500 lead at the very last corner of the race.
The rookie driver looked set to pull off a shock win as he made his last tank of fuel go further than anyone else and emerged in the lead with three laps to go.
But as he came through the final corner of the event, he ran wide lapping Ganassi's Charlie Kimball and slid into the wall. Although Hildebrand had the momentum to cross the finish line in his wrecked car, Dan Wheldon came past to take victory.
"I'm okay, but this is not really about me at this point," said Hildebrand. "You always show up to try to win. My disappointment is for the team and for National Guard as a sponsor.
"It's one of the those things, as a driver, you never really know what you're going to expect. We knew we had a fast race car. We knew if the race came to us, we may be in a position to sort of finish top three, top five."
Hildebrand said he felt he had to pass Kimball quickly as drivers behind with more fuel were catching up with him.
"I knew we were really tight on fuel coming to the end, and the spotters were in my ear saying, 'The guys are coming and they're coming hard,'" he said. "We had to conserve a little fuel and the tyres were coming to the end of their stint. I was hanging a little on to get the thing around."
He added: "I quickly decided, knowing that the cars in second and third were coming pretty strong, that rather than downshifting a bunch and sort of risking slowing the car way down coming onto the front straight to stay behind him, I thought I'll breathe it and go to the high side because it was a move I used earlier in the race to get around some slower cars in a fairly similar situation.
"I guess just with the tyres as worn as they were, the run being as long, that sort of stint of the race being as long as it was, there were a bunch of marbles on the outside. Once I got up there, there wasn't a lot I could do."
Hildebrand praised team co-owner John Barnes for the support he showed after the race.
"John was great. He's just so proud of this group of guys for putting up such a tremendous effort throughout the day," said Hildebrand.
"That was certainly a welcomed face and emotion for me walking down the pitlane. Sometimes you never know what you're going to get from a team when you've just lost the Indy 500 by a spot or whatever.
"But he's a real driver's owner from that perspective. He's ultra-competitive, but at the same time he can understand I think the emotions of what the driver goes through, as well."
Barnes added: "We came here with a rookie driver, and everybody says we're going to have trouble and everything. But I can tell you that he did a great job. He drove to a fuel number I didn't think was going to be attainable. We're so proud of him and the people at Panther and the crew."