Keselowski claims Charlotte pole
| | |
| --- | --- |
| By Diego Mejia | Friday, May 27th 2011, 06:53 GMT |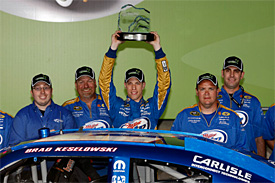 Brad Keselowski claimed his second NASCAR Sprint Cup career pole position in qualifying for Sunday's 600-mile race at Charlotte.
The Penske driver set a fastest lap of 28.112 seconds at an average speed of 192.089 mph, which bumped Richard Petty's Motorsport's AJ Allmendinger from pole position.
Championship leader Carl Edwards looked like a threat after running later in the order thanks to a faster practice time, but in the end he had to settle for third.
"It's an important weekend for Penske Racing and an important weekend for the country," said Keselowski after taking pole for NASCAR's Memorial weekend race. "The 600 is a big race for NASCAR, it has a lot of tradition and to add my name to the list of pole winners is pretty special but I'd like to add it to those who have won it. This is the first step to doing that."
Allmendinger will make his second consecutive front-row start, running as the fastest Ford driver on a flying lap. Joe Gibbs Racing's Denny Hamlin will share the second row of the grid with Roush Fenway's Edwards, who drives a brand new car this weekend after damaging his All-Star winning Fusion during his post-race celebration last weekend.
Richard Childress' Jeff Burton was the fastest Chevy driver in fifth after setting the pace earlier in practice. Hendrick Motorsports' Jimmie Johnson was sixth, ahead of Michael Waltrip Racing's David Reutimann, who looked strong again after finishing fifth at the All-Star.
Roush's David Ragan was eighth while Ricky Stenhouse Jr ran last in the order and made good use of the conditions to impress with ninth spot on his Cup debut for the Wood Brothers squad.
He was - by some margin - the fastest of those who needed to make the field on time, running nearly 0.4s faster than David Starr, who was second among those non-guaranteed to start before qualifying.
Andy Lally spun on his second flying lap and ended up being bumped from the grid by Stenhouse, while TJ Bell, Scott Wimmer, Tony Raines and Scott Riggs also failed to make the field.


Pos  Driver              Car                Time             
 1.  Brad Keselowski     Dodge              28.112  
 2.  A.J.Allmendinger    Ford               28.170  +  0.058
 3.  Carl Edwards        Ford               28.171  +  0.059
 4.  Denny Hamlin        Toyota             28.218  +  0.106
 5.  Jeff Burton         Chevrolet          28.236  +  0.124
 6.  Jimmie Johnson      Chevrolet          28.262  +  0.150
 7.  David Reutimann     Toyota             28.284  +  0.172
 8.  David Ragan         Ford               28.302  +  0.190
 9.  R.Stenhouse Jr.     Ford               28.309  +  0.197
10.  Clint Bowyer        Chevrolet          28.316  +  0.204
11.  Jeff Gordon         Chevrolet          28.331  +  0.219
12.  Ryan Newman         Chevrolet          28.337  +  0.225
13.  Mark Martin         Chevrolet          28.360  +  0.248
14.  Martin Truex Jr.    Toyota             28.391  +  0.279
15.  Greg Biffle         Ford               28.397  +  0.285
16.  Paul Menard         Chevrolet          28.411  +  0.299
17.  Kasey Kahne         Toyota             28.437  +  0.325
18.  Brian Vickers       Toyota             28.441  +  0.329
19.  Matt Kenseth        Ford               28.442  +  0.330
20.  Regan Smith         Chevrolet          28.456  +  0.344
21.  Kyle Busch          Toyota             28.505  +  0.393
22.  Tony Stewart        Chevrolet          28.509  +  0.397
23.  Joey Logano         Toyota             28.523  +  0.411
24.  Marcos Ambrose      Ford               28.528  +  0.416
25.  D.Earnhardt Jr.     Chevrolet          28.581  +  0.469
26.  Kurt Busch          Dodge              28.595  +  0.483
27.  Bobby Labonte       Toyota             28.624  +  0.512
28.  Kevin Harvick       Chevrolet          28.660  +  0.548
29.  J.P.Montoya         Chevrolet          28.699  +  0.587
30.  David Gilliland     Ford               28.716  +  0.604
31.  Travis Kvapil       Ford               28.725  +  0.613
32.  David Starr         Ford               28.732  +  0.620
33.  Michael McDowell    Toyota             28.772  +  0.660
34.  J.J. Yeley          Chevrolet          28.798  +  0.686
35.  Jamie McMurray      Chevrolet          28.846  +  0.734
36.  Joe Nemechek        Toyota             28.851  +  0.739
37.  Casey Mears         Toyota             28.878  +  0.766
38.  David Stremme       Chevrolet          28.890  +  0.778
39.  Mike Skinner        Toyota             28.912  +  0.800
40.  Mike Bliss          Ford               28.968  +  0.856
41.  Landon Cassill      Chevrolet          29.100  +  0.988
42.  Robby Gordon        Dodge              29.224  +  1.112
43.  Dave Blaney         Chevrolet          29.264  +  1.152