McLaren wants straight fight with RBR
| | |
| --- | --- |
| By Jonathan Noble | Monday, May 23rd 2011, 09:20 GMT |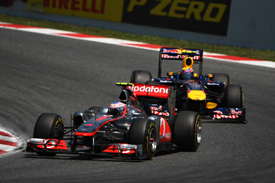 McLaren is hoping that the Monaco Grand Prix turns into a straight head-to-head fight between itself and Red Bull Racing - but it fears other teams remain a serious threat.
Although Sebastian Vettel and Lewis Hamilton were in a class of their own in the Spanish GP, Whitmarsh thinks that rivals like Ferrari and Mercedes GP can deliver more on the streets of Monte Carlo.
"I hope so," said Whitmarsh, when asked if he expected the team to be locked in a private battle with Red Bull Racing again. "But don't underestimate the others.
"I think Fernando [Alonso] did a fantastic qualifying lap in Spain and he can pull those sorts of things out. I think at the moment we have some pace on them, but they can improve very quickly. And so can Mercedes, so it is very easy to go wrong.
"Armco always beckons at Monaco, but we have a great record there and would like to do it again. We have won it 14 times; we would like to win it again."
Whitmarsh believes that the disparity between Red Bull Racing's amazing qualifying pace and its slower form in the races could be down to differing approaches to set-up.
"I think Red Bull do a number of things to set-up their car for qualifying, which makes it very quick," explained Whitmarsh. "We are working on some of those areas.
"There are different characteristics. We work quite hard to make sure we have a good race pace, and ultimately you have to have that, but we also need a slightly better track position."
While Whitmarsh believes McLaren had made good progress with an upgrade package for Spain, he reckons his team still needs to do more to lift itself in front of Red Bull Racing.
"We certainly put over half a second on the car," he explained. "We will do a full evaluation when we get back, but we need another half second. And we will keep working until we get that."