McLaren has 'work to do' to catch RBR
| | |
| --- | --- |
| By Simon Strang and Pablo Elizalde | Tuesday, April 5th 2011, 14:26 GMT |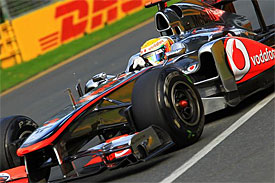 McLaren says it has a "reasonable amount of work to do" to match Red Bull Racing's pace, but the British squad admits it is pleased with its start to the 2011 season.
The Woking-based squad started its campaign in stronger-than-expected fashion after a tough series of tests ahead of the first race of the year.
Lewis Hamilton finished the Melbourne race in second position behind Red Bull's Sebastian Vettel, while team-mate Jenson Button was sixth after a drive-through penalty.
McLaren's managing director Jonathan Neale admitted on Tuesday his team is aware that it needs to raise its pace to catch Red Bull.
"I think you are right in your first assessment in that we don't think we necessarily had the quickest car out there, and we are working very hard over the next few races to try and make sure that Lewis [Hamilton] and Jenson [Button] can qualify on the front row," said Neale during a Vodafone phone-in on Tuesday.
"I think there is still a reasonable amount of work to do. There are some areas of the car that we are satisfied with, but clearly at this stage it is all about how we exploit the tyres and we get the downforce on the car."
Neale admitted, however, that the team was happy with where it was in Australia, especially considering the difficult winter of testing.
"We were pleased with the performance of our car even though we didn't win the race," he said.
"That was a confidence boost for us. We are not for one minute thinking that we have seen the best of Ferrari or Mercedes at this stage. We watched each other carefully through winter testing and I am absolutely sure that both of those teams have more to bring.
"In terms of the nature of the circuit, once you get to venue like Malaysia with much hotter track temperatures and certainly circuits like Barcelona which are pretty challenging, they will test the cars more fully."
Neale also conceded McLaren was not aware of the potential of Red Bull's KERS, despite Button saying during the Australian GP weekend that he believed the British squad's system was superior.
Red Bull decided against running KERS in Australia, but it is planning to race it in Malaysia, where its impact will be more significant.
"I'm not sure that he would know about Red Bull's KERS," he said. "Certainly I don't know anything about its system. I think from the basis of Mercedes Benz, which builds our system, with an extra 12 months of experience compared to others then there should be advantages to do with systems integration and packaging. But that is a very difficult thing to quantify because we don't have any comparative information.
"I think the one thing that we are all looking for at this stage is to make sure that our cars are reliable as possible. Of course with the increase in complexity comes the risk of poorer reliability. So we are fighting very hard to make sure that we have the aerodynamic performance that we are looking for but making sure that the underlying systems are also reliable."