Pirelli considers tweaking markings
| | |
| --- | --- |
| By Jonathan Noble | Tuesday, March 29th 2011, 10:37 GMT |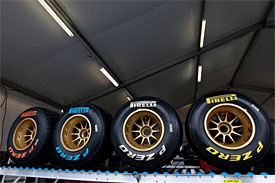 Pirelli is considering a tweak to its tyre marking system after difficulties distinguishing the colours over the Australian Grand Prix weekend.
Ahead of the race, Pirelli announced that its tyres would have different coloured lettering this year to distinguish their compound - with the soft (yellow) and hard (silver) being used in Melbourne.
But with teams finding it difficult at times to work out which colour tyres were in use when the cars were in action, Pirelli has promised to re-examine its plan.
"We are looking at the markings, particularly the silver and the white," Pirelli director of motorsport Paul Hembery said when asked by AUTOSPORT about the situation.
"I thought the yellow was very clear. Looking at the images throughout the race on the television screens, I don't think there was any doubt watching the cars with the yellow markings.
"But the silver? Yes. I think we need to work on that because it blurred a bit with the black. But if that is my biggest problem then I will be happy."
Rubens Barrichello was one of several leading figures who thought the colour system needing improving.
"The colours of the tyres, they don't differentiate what is going on. Pirelli need to do something for the spectators.
"If you have a frozen image you can see on the picture what it is. But, on a running car, you can't see what tyres someone is running. So imagine what it is like in the grandstand. It would be nice to do something different."