Button says Massa pass ruined race
| | |
| --- | --- |
| By Pablo Elizalde | Sunday, March 27th 2011, 08:28 GMT |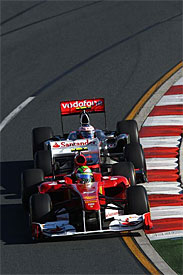 Jenson Button admitted getting stuck behind Felipe Massa ruined all his chances of a strong result at the Australian Grand Prix.
The McLaren driver was overtaken by Massa at the start, and despite being much faster the Briton was unable to find a way to pass him.
He eventually overtook Massa by cutting the chicane on Turn 12, something for which he was given a drive-through penalty, as the Brazilian pitted right after that and Button was unable to give the position back.
Button went on to finish in sixth and admitted it had been a frustrating day.
"I got an okay start and I was surprised to see Petrov on the inside. He forced me wide and then I got stuck behind Massa," Button told reporters after the race. "And that was the worse move of the race, because he was so slow, and he's the most difficult person to overtake.
"He blocked very well but it just slowed us down massively. Then I tried to overtake him I think at Turn 11 or 12 and he went so deep into the corner. He pushed me wide. I couldn't go around the corner anymore, so I cut it. I was in front before I entered the corner and then I didn't know what to do.
"The team said 'stay where you are, we'll see what the stewards say', but as soon as Ferrari saw that happen they pitted Massa and as soon as that happens you get a drive-through.
"I don't know if that was done on purpose or not, but I got a drive-through and I had to find my way through, which was quite fun but being that far back is very frustrating because the pace was much better than that."
The 2009 world champion was still encouraged by McLaren's form, although he was left lamenting not having been able to maximise it.
"I just wish I could have got the best out of it, but Lewis did a good job today. Still it wasn't the perfect race for him, as he had a bit of an off and damaged the floor. Red Bull's pace is very good but it was nice to see that he could hold on."