Nissan's Westbrook leads practice
| | |
| --- | --- |
| | Friday, March 25th 2011, 13:29 GMT |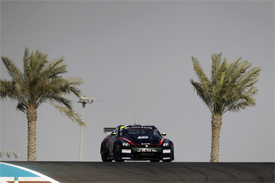 New Nissan driver Richard Westbrook topped the times in practice ahead of qualifying for the opening round of the FIA GT1 World Championship in Abu Dhabi.
Westbrook, who has moved to Nissan from Ford for this season, set a best time of 1m52.777s around the Abu Dhabi short circuit in the second of the two practice sessions. That was less than a tenth of a second clear of Nicky Pastorelli in the best of the All-Inkl Lamborghinis.
Westbrook, who shares his JR Motorsports Nissan GT-R with Peter Dumbreck, said: "The car is good, but not quite there yet. We're heading in the right direction, but there is still some work to do for the race."
Third fastest was Frederic Makowiecki in the lead Marc VDS Ford on 1m52.846s, just 0.03s slower than Pastorelli. The Frenchman was in turn 0.01s ahead of Markus Winkelhock in the second All-Inkl Lamborghini.
The slower, first free practice session was headed by Stefan Mucke in the Young Driver AMR Aston Martin on a 1m53.216s lap. He was just two hundredths ahead of Dominik Schwager in the All-Inkl Lamborghini he shares with Pastorelli.
The top nine cars, including at least one from each of the five marques represented in the world championship, were covered by less than a second in the second session.
First free practice:

Pos  Drivers                  Team/Car              Time       Gap
 1.  Mucke/Turner             Young Driver Aston    1m53.216s
 2.  Pastorelli/Schwager      All-Inkl Lamborghini  1m53.239s  + 0.023s
 3.  Hezemans/Catsburg        Exim Corvette         1m53.326s  + 0.110s
 4.  Dumbreck/Westbrook       JR Nissan             1m53.333s  + 0.117s
 5.  Bernoldi/Zonta           Sumo Power Nissan     1m53.514s  + 0.298s
 6.  Winkelhock/Basseng       All-Inkl Lamborghini  1m53.558s  + 0.342s
 7.  Luhr/Krumm               JR Nissan             1m53.754s  + 0.538s
 8.  Muller/Enge              Young Driver Aston    1m53.804s  + 0.588s
 9.  Wendlinger/Kox           Swiss Lamborghini     1m53.826s  + 0.610s
10.  Piccione/Dusseldorp      Hexis Aston Martin    1m53.848s  + 0.632s
11.  Martin/Makowiecki        Marc VDS Ford         1m53.969s  + 0.753s
12.  Hennerici/Leinders       Marc VDS Ford         1m54.006s  + 0.790s
13.  Brabham/Campbell-Walter  Sumo Power Nissan     1m54.023s  + 0.807s
14.  Hohenadel/Piccini        Hexis Aston Martin    1m54.351s  + 1.135s
15.  Matzke/Pavlovic          Belgian Ford          1m54.512s  + 1.296s
16.  Rossi/Camara             DKR Corvette          1m54.705s  + 1.489s
17.  Nilsson/Janak            Swiss Lamborghini     1m54.947s  + 1.731s
18.  Leclerc/Giroix           Belgian Ford          1m57.857s  + 4.641s

Pre-qualifying practice:

Pos  Drivers                  Team/Car              Time       Gap
 1.  Dumbreck/Westbrook       JR Nissan             1m52.777s
 2.  Pastorelli/Schwager      All-Inkl Lamborghini  1m52.815s  + 0.038s
 3.  Martin/Makowiecki        Marc VDS Ford         1m52.846s  + 0.069s
 4.  Winkelhock/Basseng       All-Inkl Lamborghini  1m52.858s  + 0.081s
 5.  Mucke/Turner             Young Driver Aston    1m53.082s  + 0.305s
 6.  Hezemans/Catsburg        Exim Corvette         1m53.170s  + 0.393s
 7.  Muller/Enge              Young Driver Aston    1m53.308s  + 0.531s
 8.  Bernoldi/Zonta           Sumo Power Nissan     1m53.373s  + 0.596s
 9.  Luhr/Krumm               JR Nissan             1m53.585s  + 0.808s
10.  Wendlinger/Kox           Swiss Lamborghini     1m53.668s  + 0.891s
11.  Brabham/Campbell-Walter  Sumo Power Nissan     1m53.815s  + 1.038s
12.  Rossi/Camara             DKR Corvette          1m54.389s  + 1.612s
13.  Piccione/Dusseldorp      Hexis Aston Martin    1m54.685s  + 1.908s
14.  Matzke/Pavlovic          Belgian Ford          1m54.921s  + 2.144s
15.  Nilsson/Janak            Swiss Lamborghini     1m55.199s  + 2.422s
16.  Leclerc/Giroix           Belgian Ford          1m55.564s  + 2.787s