Michael adamant Williams fully ready
| | |
| --- | --- |
| By Pablo Elizalde | Tuesday, March 15th 2011, 12:35 GMT |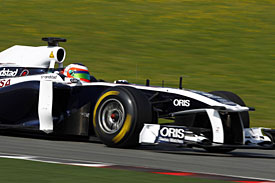 Williams's technical director Sam Michael says his team is fully prepared for the start of the season despite some reliability issues hindering winter testing.
"Definitely. We would have been ready for Bahrain as well, that is the nature of Formula 1," said Michael when asked if the team was ready for Australia.
"We are always ready for whatever we need to be ready for. It will be good to get the season underway now as it feels slightly strange not to be racing already at this time of the year."
Michael admitted he was encouraged by the reliability of the new concepts introduced in this year's car.
"We had a few reliability problems during winter testing but none of the problems we had were major, except perhaps those on KERS that have now been addressed," he said. "Some small faults caused some downtime, but that is the result of having such tightly integrated systems on F1 cars now.
"Encouragingly, we haven't had any issues with the new conceptual areas that we pushed the boundaries on, like the drive-shafts. We have successfully completed 4969.2 kilometres during winter testing."
He is also adamant that the problems with KERS have all been rectified.
"We had a problem with the inverter, which is located between the battery and the Motor Generator Unit (MGU). The main problem was that when we had a failure the inverter didn't isolate effectively. We have therefore put in place design changes to give that isolation, and avoid the fault happening again.
"We have a full solution to allow us to race KERS in Melbourne."