North One takeover deal completed
| | |
| --- | --- |
| By David Evans | Thursday, March 3rd 2011, 18:34 GMT |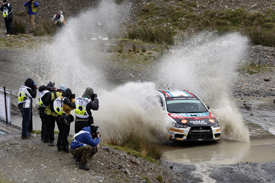 The World Rally Championship promoter, North One Sport, has confirmed it has been taken over by Convers Sports Initiatives.
The deal struck between NOS owner North One Television and CSI - exclusively revealed in AUTOSPORT last month - will safeguard the future promotion of the series, bringing fresh investment to an area of North One Television's business which had suffered financial losses since taking over WRC promotion.
Run by Russian billionaire and occasional rally driver Vladimir Antonov, CSI is promising to bring considerable resources for the WRC.
"Convers Sports' acquisition of North One Sport starts a new page in the history of the WRC. Our team will use all the resources available to us to continue to excite fans with one of the best racing challenges in the world," said Antonov.
"Working in partnership with the FIA and other key stakeholders we plan to achieve even higher targets and continue to give an amazing challenge to manufacturers, drivers and teams. Our company plans to invest substantial resources to improve the promotion of the WRC and bring the quality of competition to even higher levels. This will benefit both participants and spectators in the long run.
"Convers Sports will dedicate our hearts and minds to continue building the legacy of this extraordinary sport. We want it to evolve into something exceptional. Convers Sports will do whatever is necessary to maximise this opportunity and leave our mark in global motorsport history."
The takeover is not expected to make any significant difference to the day-to-day running of the series, with the original 16-strong NOS staff remaining.
NOS CEO Simon Long said: "In some ways it's business as usual for North One Sport.
"The vision remains the same and we have continuity in that the great team of individuals that work for us will continue to do so. But with the extra resources now at our disposal - both financially and in terms of the related knowledge and experience that the team at CSI brings - we're in a better position than ever before to push the WRC forward."