Gordon rejuvenated by victory
| | |
| --- | --- |
| By Diego Mejia | Tuesday, March 1st 2011, 07:08 GMT |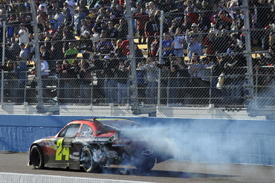 Jeff Gordon reckons his victory at Phoenix gives him and his team a confidence boost as he hopes to be in contention for a fifth NASCAR Sprint Cup title.
The Hendrick Motorsports driver brought a 66-race win-less streak to an end on Sunday, beating Joe Gibbs Racing's Kyle Busch with an emphatic overtaking manoeuvre after running him down in the closing laps of the second race of the season.
The 39-year-old, who last won a title almost 10 years ago, had eight second-place finishes since his latest win which came at Texas in 2009. He has also claimed 22 top-five finishes since then but for various reasons he had been unable to wrap things up properly.
Gordon admitted he doubted he would be able to win again after spending nearly two years without a single victory but he feels now that his triumph at Phoenix brings back the confidence that he can still make it happen without changing the principles that allowed him to win so many races in the past.
"I guess every racecar driver knows that there's going to be that time in their life when they are not going to go to victory lane again and you don't know when that time is going to come. I was so hoping that time was not for me now," said Gordon.
"I felt like I still have it in me. I know how passionate I am about it. But things have changed in the sport. The cars have changed. Tyres have changed. Competition has changed. So when you go through a streak of without winning, you think, okay, is it me or what is it?
"Days like this allow you to gain that confidence in yourself, just keep doing what you're doing, what's got to you victory lane in the past, keep giving that good information and when the tools around you and the chemistry is there throughout the whole team and good decisions are made, days like this will happen."
The four-time Cup champion admits he had felt the pressure of not being able to win while racing for NASCAR's leading organisation, racing the same kind of equipment that some of his team-mates have taken to victory lane more often than him.
The way he achieved his win on Sunday over Kyle Busch has him dreaming of what lies ahead for him this season.
"It has not been fun, I'll be honest with you," said Gordon. "Going to the racetrack and being competitive and battling for wins, that's been my whole motivation throughout my career. I've been so fortunate to be in that position to go to the racetrack with a shot at winning races on a pretty consistent basis, and that's what I love about racing. I don't love going out there and finishing 10th or 15th or 20th.
"I'll be honest, it's depressing and I know that might not come across the right way but when you've won 82 races, and you've worked for Hendrick Motorsports, that pressure is there and there are expectations not only from the outside but the inside.
"When you go on that kind of a streak and drought, no doubt about it, it's frustrating. And it has not been a lot of fun going to the racetrack. And that's what made it so sweet, this victory - it's not like we lucked into it. We battled and we worked and we out-raced them and it was just so cool to experience that.
"It's got me excited about the rest of the season, as well. I think we can do this at other tracks, as well."
Gordon is currently the fifth most successful driver in NASCAR history, only a win shy of tying for third place in the record books behind legends Richard Petty and David Pearson.