Tony George rejoins Hulman board
| | |
| --- | --- |
| By Matt Beer | Thursday, February 17th 2011, 22:23 GMT |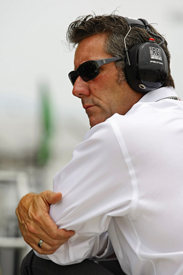 Indy Racing League founder Tony George has returned to the board of Hulman & Company, the family firm that runs the Indianapolis Motor Speedway and IndyCar Series among other businesses.
George was ousted from his role at the head of IndyCar and IMS in mid-2009, 13 years after he launched what was then known as the IRL as a rival to the CART-run Indycar World Series. After a bitter war between the two rival American single-seater series, they agreed a merger for the 2008 season, with George initially staying on at the head of the unified championship until parting company with IndyCar just under two years ago.
Since then his sole involvement with the series has been as owner of the Vision Racing team, which only ran a handful of races in partnership with Panther Racing last year.
But IMS announced today that George was now back on the Hulman family board as part of an expansion to an eight-member board that also sees businessmen Michael L Smith, Jerry W Throgmartin and Andre B Lacy added to the line-up.
Mari Hulman George, chairman of the board and mother of Tony George, said: "As we strive to position Hulman & Company to be more competitive and relevant in this marketplace, the current board believes we can strengthen our position by calling upon the successful business expertise of these additional board members.
"We are pleased to welcome Andre, Mike and Jerry to the board. In addition, I am particularly pleased that we will be adding Tony to the Hulman & Company board, a board upon which he has been a member in the past.
"Over the last 18 months, we have successfully positioned Hulman & Company for future growth through strong management, limited streamlining and other efficiencies. We are excited about the future, and we believe the addition of these board members and their long and proven history of extremely successful business management will benefit Hulman & Company greatly."
George's old role as boss of IndyCar is now held by Randy Bernard, who joined the championship after a highly successful stint in charge of Professional Bull Riding.