Massa: Ferrari not focused on rivals
| | |
| --- | --- |
| By Jonathan Noble and Steven English | Friday, February 11th 2011, 17:36 GMT |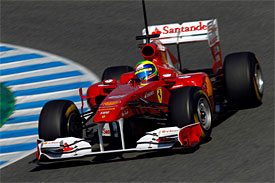 Felipe Massa says Ferrari is spending no time worrying about the performance of rival teams for now - because it is more important to get its own car totally sorted for the start of the campaign.
Although the Brazilian was fastest on the opening day of this week's Jerez test, with team-mate Fernando Alonso quickest on the first day in Valencia, he thinks it too early to judge whether or not Ferrari has a pace-setting car.
"It's just the second place where we are testing," said Massa, who was second fastest behind Michael Schumacher on Friday.
"Performance is always important but now we have so much to do on the car. To have the right direction for the first race we are not looking so much at the other teams now, we're looking at what we have to do - the direction we have to take, the problems we need to look at, they're more important now.
"The first race is still far away and we need to maximise the car yet, so we're working to be in the direction we want for the first race."
Massa believes that the key for Ferrari in Jerez is to keep up its solid reliability and continue to understand more about tyres.
"Reliability is very important, " he explained. "To see that everything is working like it has to work. Every new part in the car.
"To work with these tyres, which is a big change to last year. When you put the new tyres on, it's important to do a good laptime as well, that's the main target from now to the first race."
Massa also believes that this winter's testing is going as well as last year - when the team was consistently quick in the build-up to the campaign although could not maintain that momentum in the early stages of the season.
"Last year we were very strong in the winter as well, the first race was also good. Then some races we were not so strong. This is another winter we're working the direction we want to work.
"The only positive thing I can tell you is that everything we see in the car is more or less in the direction we expect, and the direction to finish our programme. But talking about performance is difficult to say."