Schumacher upbeat despite lack of laps
| | |
| --- | --- |
| By Pablo Elizalde | Tuesday, February 1st 2011, 17:59 GMT |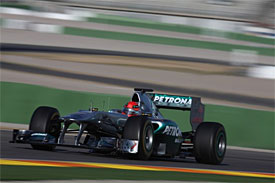 Michael Schumacher was left lamenting his lack of running in today's opening testing session of the 2011 season.
The Mercedes GP driver managed just 15 laps after team-mate Nico Rosberg was forced to stop with a hydraulic failure early on.
Schumacher was able to join the session near the end and admitted he expected more running.
"Interesting, but short because obviously we had expected to do a few more laps," said Schumacher of his day. "Nevertheless it is always exciting, after a long winter break, to get back into the car and drive.
"It's a beautiful car, from the look, and inside, we had little running obviously, but the feeling is positive. Tomorrow we have a proper working day and hopefully proper running."
The seven-time champion, however, admitted he was still very positive about Mercedes's chances for the upcoming season following the unveiled of the new car today.
"I'm very optimistic about this, absolutely, yes. Nothing has changed from what we have learned through the winter to the couple of laps we did today.
"I'm not worried in any way that we cannot fulfil our targets, and that is a minimum of podiums and hopefully victories."
Schumacher, 42, said he is feeling like his old self again, and admitted the situation is different from 2010, when he was returning to racing after a three-year absence.
"In physical strength I don't have margin to improve myself," he said. "I've always been top level, and that's no different to the start of last year.
"Yes, I was rusty. But that's not the case now. I get into the car and I immediately feel at home. I know what to do, I know all the functions of the car, I know how to drive it.
"But the reference is not there yet. That will build up in the next days, I guess."