Horner: Red Bull confident, not arrogant
| | |
| --- | --- |
| By Jonathan Noble | Tuesday, February 1st 2011, 10:16 GMT |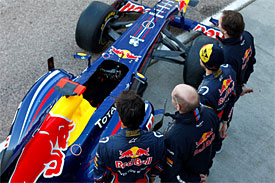 Red Bull Racing boss Christian Horner says last year's titles have given the team confidence to do better, but he claimed the world champion squad will still be humble in its approach.
The Milton Keynes-based team enjoyed a great 2010 season and went on to win the first titles in its short history.
Although Red Bull will start 2011 as hot favourites once more, Horner says the team will not be arrogant, and insists the titles have only helped improve morale and confidence within it.
"This year is no different to any other," said Horner during the launch of the new RB7 car at Valencia.
"I think if we had not have won either championship last year there would have been that expectation and obviously the pressure that comes with that. We've achieved that and achieved that in a short space of time and I think it is like winning your first grand prix.
"Out of that comes confidence but not arrogance, but the team goes into this year very, very motivated and very committed but you have to remember we are still an independent team with a customer engine that achieved some remarkable things last year and that is our target again, again, obviously this year.
"Inevitably last year it was a long year, we face the longest year in F1 this year with 20 races, which will be a challenge and the performance between different teams will flow from the different circuits we visit but I am confident that over the course of the season we are very well equipped."
Horner is aware that the battle for the 2011 championships will be extremely hard, but admitted his team is still savouring the successes of last year.
"It is a new situation for the team," he added. "It is only 10 weeks since Abu Dhabi and those weeks have gone pretty quickly, so the realisation of what we achieved last year was pretty special for everyone in the team.
"So obviously we have turned up here in 2011 as the reigning world champions and the target is to do our very, very best to defend both those titles. The opposition we have in Ferrari, McLaren and Mercedes is formidable so all we can do it our very best as we did last year and at the end of the day the championship table won't lie."
He also admitted the team had to work extra hard to make sure the car was ready for the first test of the year.
"There is a lot of enthusiasm and a huge amount of commitment. This has been the shortest build and production time in Red Bull's short history and the effort that has gone in from the factor has been quite phenomenal.
"Adrian doesn't release his drawings any earlier these days and they built the car in less time. They sacrificed the family time at Christmas and so on. Testimony to what we have seen in the pitlane."