Sainz extends Dakar lead
| | |
| --- | --- |
| By Steven English | Wednesday, January 5th 2011, 22:46 GMT |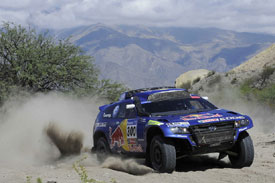 Carlos Sainz celebrated his 20th career Dakar Rally stage victory on Wednesday and extended his overall lead as the event moved into Chile.
But it was event record holder Stephane Peterhansel's who looked more likely to add to his tally early on in the day's running - which began at an altitude of 3300 metres in the Atacama Desert.
Peterhansel's BMW led through the 80km checkpoint, 15 seconds quicker than Sainz, but he was delayed by a puncture later in the day and slipped to third behind Sainz's Volkswagen team-mate Nasser Al-Attiyah.
"It could've been a good day because we were in the lead at the intermediate points," said Peterhansel. "But we got a flat tyre and had to change the wheel, which took two or three minutes. That's what we needed to win the stage.
"It means we're navigating well and we aren't having problems on high altitude tracks either. So, even if it wasn't our strategy to be third for tomorrow, it hasn't turned out to bad in the end. By setting off in third we can gain back a handful of precious minutes."
Sainz was relieved to take the victory but insists he is not in a comfortable lead of the event despite his lead climbing above four minutes.
"There was some navigation work, a bit of off-track driving, but I think that it will be tomorrow when things will get serious," said Sainz. "Peterhansel, Al Attiyah and even [Giniel] de Viliers are dangerous rivals. We're very close to each other in the standings."
De Villiers was fourth on today's stage ahead of fellow Volkswagen runner Mark Miller, who moved back into the overall top 10. Orlando Terranova completed the top six in his BMW, cementing his place in sixth overall.

Stage four results:

Pos Driver                   Car           Time/Gap
 1. Carlos Sainz             Volkswagen    1h57m09s
 2. Nasser Al-Attiyah        Volkswagen        +50s
 3. Stephane Peterhansel     BMW             +1m22s
 4. Giniel de Villiers       Volkswagen      +2m17s
 5. Mark Miller              Volkswagen      +2m43s
 6. Orlando Terranova        BMW             +4m04s
 7. Guerlain Chicherit       Mini            +4m38s
 8. Krzysztof Holowczyc      BMW             +5m56s
 9. Leonid Novitskiy         BMW            +10m35s
10. Guilherme Spinelli       Mitsubishi     +11m23s

Overall standings:

Pos Driver                   Car            Time/Gap
 1. Carlos Sainz             Volkswagen    11h09m14s
 2. Nasser Al-Attiyah        Volkswagen       +4m24s
 3. Stephane Peterhansel     BMW              +5m41s
 4. Giniel de Villiers       Volkswagen      +19m14s
 5. Krzysztof Holowczyc      BMW             +27m45s
 6. Orlando Terranova        BMW             +33m11s
 7. Leonid Novitskiy         BMW             +49m40s
 8. Guilherme Spinelli       Mitsubishi      +59m45s
 9. Nani Roma                Nissan        +1h08m32s
10. Mark Miller              Volkswagen    +1h08m36s