Button disappointed with balance
| | |
| --- | --- |
| By James Thomas and Matt Beer | Friday, November 12th 2010, 15:58 GMT |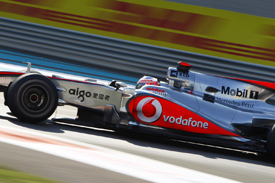 Jenson Button admitted he was thoroughly unhappy with second practice in Abu Dhabi, having again struggled with the balance of his McLaren.
The out-going world champion was only eighth-fastest in the session, and said his car's handling had gone downhill during the day.
"This morning wasn't too bad, there was quite a lot of grip for a circuit that isn't used that much, also considering the amount of rain we had at the start of the session," said Button.
"So it wasn't too bad, a few areas we need to improve - front locking is a big issue as it has been the last few races.
"We changed a few things this afternoon including using less downforce for a couple of reasons on my car.
"The car didn't feel very good this afternoon, I struggled with balance. Every corner I do it feels as though the car has a different balance.
"There is little consistency and that's something we've got to work on. I think we're running too little downforce, but we'll have to have a look at the data and see."
"If you look at the long run I'm really struggling for consistency.
"Hopefully we know the reasons why the pace isn't there and we can sort it out for tomorrow."
He was confident that if McLaren put more downforce back on, it would not exacerbate his earlier front brake-locking issue.
"No, normally it doesn't make it worse," Button confirmed. "That was one of the changes we made, we made others that would have helped that which is good.
"Our straightline speed is very good, I think it's about 319 km/h which is a bit quicker than the rest."
Despite his unhappy day, Button took some comfort from the fact his team-mate Lewis Hamilton had been quickest.
"I didn't enjoy this afternoon one little bit. Hopefully we can get a good balance," said Button.
"Lewis was very quick so hopefully we can find the sweet spot with my car."