RBR keen to know Webber's frustrations
| | |
| --- | --- |
| By Jonathan Noble | Sunday, November 7th 2010, 12:40 GMT |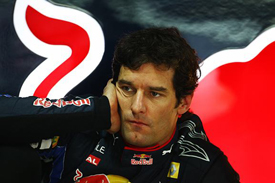 Red Bull Racing says it wants to understand exactly why Mark Webber has felt frustrations about his treatment this year, after making it clear the team is wholly committed to him remaining in 2011.
On the back of controversial remarks made by Webber ahead of the Brazilian Grand Prix, where he suggested that the outfit emotionally favoured his team-mate Sebastian Vettel, team chiefs have moved to clear the air with the Australian.
And although there have been suggestions that Webber's comments infuriated senior management - including Red Bull owner Dietrich Mateschitz - team principal Christian Horner insists that any unhappiness has not led to any second thoughts about keeping the Australian on board for next year.
Speaking ahead of the Brazilian Grand Prix, Horner said the priority now was to actually get a better understanding of why Webber felt unhappy enough to make the remarks in the first place.
"I think first of all we have to clearly understand what those frustrations are, because it is not at all evident to us," Horner told AUTOSPORT.
"The support that Mark has had, not just this year but for the four years he has been with the team – I cannot believe that there have been any better supported drivers in the pitlane than our drivers. It is even down to the most simple of things like the amount of media days, sponsor days and everything else they have to do. They both have absolutely awesome support from the whole of the group."
Horner said that although Webber's comments may not have gone down well with every team member, he was adamant the Australian remained an important part of the outfit.
"The unfortunate thing with anything like this is that no matter what the intent of a throwaway line or a comment, it is always the question of how it can be perceived," he said. "There is a tremendous team spirit within this team that spreads way beyond what you see track side.
"Of course it is disappointing for every team member when they see negative things written about what they perceive to be their team, even if it may not be focused directly at them.
"I think the team recognises that we have got two great drivers, we have two competitive drivers, and we have done our best to give them all the support we can. It has not been inconvenient either one of them being quick and it is a headache that I am sure a lot of teams would be quite envious of having up and down the pitlane."
He added: "It [the comment] was a little bit leftfield. But Mark is a great competitor and he sometimes feeds off controversy.
"The most important thing as a team is that we have not managed to get into the position we are by working as a bunch of individuals. We work as a team – which means we win as a team and lose as a team – and Mark has been an important part of that. He has been part of the team for four years now, and this is Red Bull's sixth season in F1 now.
"So, he knows the kind of support that he has had and enjoyed from not just the team but from Austria, and from Dietrich Mateshitz, during the last four years. So I am sure he will deliver in the next two races.
"I have every confidence in both him and Sebastian that they will deliver. It is very important for us with the constructors' situation. We have got ourselves into a good position if we have a good result here, and both of them are still contenders in the drivers' championship going into the race."
When asked if the team was as committed to Webber for 2011 now as it was before the weekend, Horner said: "Absolutely. Absolutely. Without a shadow of a doubt. Mark is driving in the form of his career.
"We have provided him with a great car. Before he joined the team he had one podium to his name, and now he is a multiple grand prix winner and a world championship contender. I cannot believe that he would be better off anywhere in the pitlane, so I very much hope he will finish his career with Red Bull.
"Mark, as we all know over the years, can be a bit outspoken and sometimes he shoots from the hip. Unfortunately Thursday was one of those occasions but if that motivates him to achieve then great. The last time he did it he produced a very dominant performance at Silverstone, so let's see what he can do here."