Massa eyes victory, but will help Alonso
| | |
| --- | --- |
| By Jonathan Noble | Thursday, November 4th 2010, 13:53 GMT |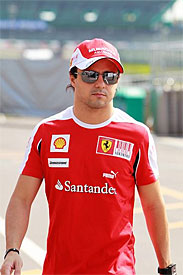 Felipe Massa has promised his home fans he will go out there to try and win the Brazilian Grand Prix this weekend - but acknowledges he will sacrifice the victory if it will help team-mate Fernando Alonso to the title.
Massa is out of championship contention and, with Alonso holding an 11-point lead in the standings heading into Interlagos, the title could be wrapped up on Sunday.
But Massa says he is not thinking only about Alonso's chances, and instead says that he will do all he can to triumph himself - as he rebuffed suggestions fans had turned against him after handing victory to his team-mate in Germany earlier this year.
"I expect me to win the race as well, I will do the best I can to win the race for the people," said Massa on Thursday. "It is also true that even after the race in Germany, when I arrived in Brazil, the people were very nice with me, very fantastic and pushing me forward. The real people they are great, journalists is much more difficult!!"
However when asked if he expected to have to give up the win if Alonso was running on track behind him, Massa said: "I did already, no? In 2007 I did it, you don't remember? I am a professional driver."
He added: "For sure when you have a driver taking points away from other drivers, who are fighting for the championship, it is always important. I see myself there, and for sure thinking about starting in the best position and finishing in the best position as well."
Massa said he saw no urgency for Alonso to wrap up the championship in Brazil this weekend, and said the only thing that mattered was just ensuring he was crowned after next week's Abu Dhabi GP.
"He [Alonso] is first in the championship so for sure he can do it," said Massa. "The focus is to win the championship. If he wins here for sure it is good for the team, but the focus is [only] that he can win the championship.
"We know how at some races everybody was sure Red Bull was going to win easy, and then something happens in the race so they lose many points, which is exactly what happened in the last race.
"Seb [Vettel] has 10 pole positions and won three races, so you can see everything can be possible in the championship, especially now Fernando is in front. The chance to win now is quite big."