McLaren ready to race aggressively
| | |
| --- | --- |
| By Jonathan Noble | Sunday, October 24th 2010, 02:34 GMT |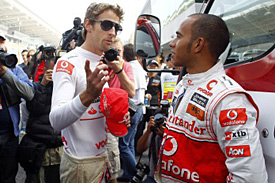 McLaren duo Jenson Button and Lewis Hamilton say they are ready to adopt an aggressive approach in a bid to take the victory in Korea that they need to keep their title hopes alive.
With the pair having lost ground in recent races to points leader Mark Webber, and having endured a disappointing qualifying performances in Korea, both men believe nothing less than a big push to win the race will be enough to keep them in the championship.
World champion Jenson Button said: "We have to win the next three races. As I said earlier in the weekend, if you have a very strong race and the Red Bulls have a little bit of a messy race that is a lot of points.
"If you win the race and Mark finishes fifth that is a massive haul of points you are going to get, so it is not over yet.
"But we haven't made it easy for ourselves. I know that the whole team is working night and day to improve this car, we have put a lot of new parts on it for this weekend and we have made some very good improvements.
"We were very happy with the car on Friday and this morning, but there is obviously more that we need to improve with the package that we have, and also to bring as much as we can to the next couple of races. But we are working as hard as we can to close the gap and hopefully we will see a good result by both of us here. But of course it is not going to be easy."
When asked how confident he was of being able to make progress up the field in the race, Button said: "For me I have to. I had a pretty tough afternoon in qualifying.
"I was very happy with the car in practice, but in qualifying with the cooler conditions I really struggled with front locking and rear locking, so I was a bit stuck with brake bias. It was not a great qualifying for me and I was surprised I was even seventh.
"But if you look at the positive side of things, I am on the clean side of the grid and we have a car that is very strong in a straight line. Our engines are very, very strong and we are efficient, so with a good start on a clean side we should be able to pick up some places. The first lap of the race is going to be very exciting to be a part of, and even more exciting for you guys watching I think.
"We can do a lot on lap one. It is a long race and I think we have a good race car. The rain will make it even more interesting and probably better for people in our position who are a little bit behind the leaders of the championship, and we can take more risks, and that is exciting for us and puts more pressure on Mark, Sebastian [Vettel] and Fernando [Alonso]."
Hamilton was equally aware that losing further ground to Webber in the title chase would be a disaster for his championship hopes.
"We need to win all of them [the final three races]," he said. "That is what we are trying to do. We are not sitting here trying to get fourth place, we are trying to do the best job to get as high up as possible.
"The most important day is Sunday - Jenson has had some great races this year where he has come from a little bit further back and had some great first laps as well, so everything is possible. We have good starts this year, plus we are very fast on the straights, so we are in a strong position."
And although looking at pulling off some aggressive moves to get himself up the order, Hamilton said he would not be taking unnecessary risks on the back of crashes in Italy and Singapore.
"I would definitely hope that I have learned from the experiences of the last few races," he said. "Definitely I won't be making any silly aggressive, very opportunistic moves. If there is a clean opportunity in front of me and I can take it without problems and get by without damaging the car then I will definitely do that. But it is all about being in the right place at the right time.
"Things happen so fast, from the word go at the start, you don't know whether to go on the inside or the outside. It just all plays out in front of you, and what will be, will be. I will do the best job I can for the team and for myself."
With rain having fallen in Korea on Sunday morning, Hamilton predicted an 'interesting' race if the water did not clear before the 3pm start.
"I think if it was wet it would be a seriously interesting race simply because none of us have driven around here in the wet," he said. "Finding the grip level at the beginning of the race would be very tough, but we would all be in the same boat."