Hamilton: Fourth was the maximum
| | |
| --- | --- |
| By Simon Strang | Saturday, October 23rd 2010, 06:40 GMT |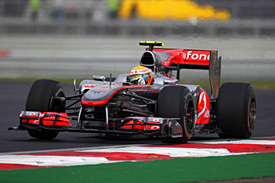 Lewis Hamilton accepted that fourth position on the grid was the best he could have achieved in qualifying for the Korean Grand Prix on Saturday, although he also revealed he was disappointed not to have been closer to pole position.
The 2008 world champion had shown strong form through practice and was quickest in Q1, but in the end was outpaced by the two Red Bulls and Fernando Alonso's Ferrari - which he said afterwards his McLaren had no answer for.
"Of course we wanted to be on pole," Hamilton told the BBC. "The team has done a great job to get new parts here this weekend and the car has felt great all weekend.
"I think I got more than what we had in the car out of it and I couldn't really ask for anymore. I don't know where they found half a second from, but still we are in the fight and we have got some long straights so we will see what happens. It may suit us."
Hamilton says that he still remains optimistic for the race, adding that he was hoping to capitalise on the McLaren's straightline speed in the long straights in the first sector of the lap.
"I feel that we are competitive, the long runs are good and the car is the best it's been," he said. "I've just got to do the best I can with what we have you know.
"You can't ask anymore from the guys at the factory, the guys here or even from me. We're still in a fighting position, we have good starts, I'm not on the clean side of the grid but we'll have to see how much of a negative that is but I think generally we can have a good race tomorrow."
The McLaren driver admitted that he had a narrow escape during Q3, when on the end of his first run he had a huge sideways moment on the pit entry lane.
Hamilton was forced to run over the grass after collecting the car, but could easily have swiped the beginning of the pitwall had he not managed to control the incident.
"There is big bump on the way in on the entry of the pitlane," he explained. "You have got to practice your entry on your in-laps just to maximise it for the race. I hit that bump and phoar... it was nearly was big shunt."