Webber gets engine boost for Korea
| | |
| --- | --- |
| By Jonathan Noble | Friday, October 22nd 2010, 12:22 GMT |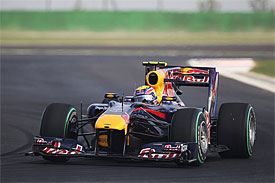 Mark Webber's bid to seal a victory in the Korean Grand Prix that could help move him closer a maiden Formula 1 title has been boosted after he elected to take a fresh engine for the event on Friday night.
The Australian has had a new power unit in reserve ever since the Italian GP, when he was the only one out of the championship contenders who chose not to take a fresh engine for that race.
With the title chase now in a crucial phase, and power quite important for the long straights of the new Korean venue, Webber will now take his eighth and final engine for the rest of the weekend.
Although the advantage of a new engine will not make much of a difference in qualifying, it could provide him with a vital boost for the race because he will not be under as much pressure as his rivals to conserve it for future use.
Webber currently enjoys a 14-point advantage over team-mate Sebastian Vettel, and if he outscores him in Korea this weekend then he will only need to finish behind the German in the remaining two races to be sure of beating him in the standings.
Webber's engine situation puts him in a comfortable position for the final three races of the season - in contrast to Ferrari's Fernando Alonso who has been looking after his power-units ever since he lost engines earlier in the campaign.
Ferrari team principal Stefano Domenicali said he hoped that reliability would not become an issue.
"I really hope not," he said on Friday. "If we do that it will be tremendously difficult to try to fight to the end. What we are able to do is try to manage the mileage with the existing engine and this is our plan and hopefully we will manage up to the Abu Dhabi Grand Prix.
"If we will have any reliability issues then it will be really traumatic as it would be almost impossible then to recover points we need to recover if we want to fight with Red Bull and McLaren as they are extremely strong. We cannot really have any problems, otherwise it is finished."