Q & A: Espargaro on Ford WRC ride
| | |
| --- | --- |
| By David Evans | Thursday, October 21st 2010, 12:08 GMT |
Twenty-one year-old Spanish MotoGP star Aleix Espargaro went for a ride with BP Ford Abu Dhabi World Rally Team driver Khalid Al Qassimi at this morning's shakedown stage in Catalunya.
AUTOSPORT caught up with the Pramac Ducati rider afterwards.
Q. How was it?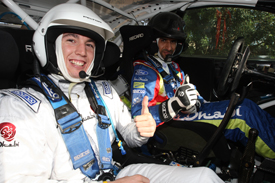 Aleix Espargaro: Unbelievable. Absolutely unbelievable. It was just great, right from the start, it was just so different in the car from the circuit. I couldn't believe how close we came to everything, the trees, the people, everything. Amazing.
Q. Had you ever been to a rally before?
AE: No never, but I want to do it again, definitely. I really enjoyed it. It's really interesting to take a walk around here and look at what's going on.
Q. What do you think of the cars?
AE: They're really good and obviously there's a lot of technology in them, lots of electronics and things like that. Khalid was explaining some of the lines and things like that to me. I can't believe how much you have to concentrate in there and how things like the dust can everything worse for a driver.
Q. What was most impressive for you?
AE: The brakes were very good, but on the gravel it was the speed at which you can enter the corner, that was just amazing. On the gravel you could really feel him pushing the car into the corner with a slide, there's nothing which compares with that at all. I saw some corners coming and thought: "we're not going in at this speed...". But we did.
Q. Would you like to drive?
AE: Oh yes, definitely. It would be amazing to have a go one day.
Q. And what about co-drive?
AE: That would be so difficult. I tried to imagine what it would be like to be sitting in that seat going through those corners at that speed and trying to read and tell the guy where to go. It would be really difficult, so completely different to the track. I'd like to thank Abu Dhabi for sorting this out for me, it's been an incredible opportunity.