Interview with Mike Gascoyne
| | |
| --- | --- |
| By Jonathan Noble | Monday, October 18th 2010, 10:41 GMT |
Mike Gascoyne has led Lotus Racing to tenth place in the standings this year, but the team is aiming for much more from next season.
AUTOSPORT talked to Gascoyne about the Lotus's, and his own, future in Formula 1.
Q. You recently announced that you had extended your contract with Lotus for another five years. Was that something you were always keen to do?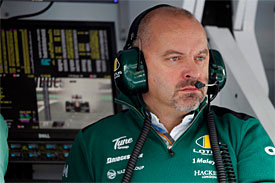 Mike Gascoyne: The deal was sort of done quite a while ago, but we did not announce it for various reasons. It was always the intention, having set the team up for scratch, to stay here permanently. I've come back to Norfolk, which is where I grew up, and it is a nice part of the world to be. So the contract extension was a natural progression.
Q. Do you feel totally settled and comfortable in this latest chapter of your career?
MG: Yes - because of the nature of the challenge as a new team, and having started it from scratch - plus the team of people that you have built up which are a bunch that I know well. Then there is the GP2 project, which I am managing as well. It is great to be doing what you know and what you are good at, and also with lots of fresh challenges involved in it. And that keeps you fresh and motivated.
Q. The impression from the outside is that you are more central to this team than you were at Toyota and Renault. Would you agree?
MG: I think at Renault I felt very much at home. I worked with Flavio [Briatore] very, very closely at Renault. We travelled a lot, and a lot of the deals were did there we did together. When Fernando [Alonso] first came in, Flavio and I talked to him together, for example.
Certainly at places like Toyota you were the hired gun, if you like. I think the role at Toyota - it was like being the sheriff in the border town. They wanted you to shoot the outlaws - but once you had got it all under control they didn't want you going around shooting people any more. So they get rid of you. At Toyota, they wanted you to fix their problems but long term you were not the sort of person they wanted.
Here at Lotus it is very different. Although I was always accused on being only a manager and not doing the engineering side, I used to go to all the technical meetings, run all the technical meetings - and at Lotus, people like [the incoming] Mark Smith, Dieter [Gass], Jody [Eggington] - they are freer as I don't really do that as much. I am so busy doing other things, that I would only be dipping in and out and that would not be effective. So they now take that responsibility on.
But the good thing is you know they are people doing it exactly the way you would have done, but bringing a fresher, younger perspective to it. So, I am very confident to let them get on and manage their areas independent to me - and keep me briefed as to what is happening. But then obviously, I am looking far longer distance in terms of drivers, other formulae, driver development programmes - strategy moves for the team, like gearbox and engine contracts. I am spending a lot more time doing those sorts of things.
Q. Do you feel a strong emotional bond to this team, having been there from day one?
MG: Yes, I think you feel it is your team. When you look back to only a year ago and we were two weeks into the project in any empty factory, it is still an interesting leap to have got here.
We are setting up the GP2 team now, and it is funny having Bruno Michel, who I have known for a very long time, telling us to get good people as it is a big job. Well, compared to what we had to do a year ago, it is trivial! You feel very much at home. It is easy to go into work every day.
Q. Do you feel that this will be the last team of your career?
MG: Yes. I think it has been no secret that I intend to do other things outside motor racing. I would very much like to have an involvement at the team much more long-term than this latest contract, but that will probably just develop into a management consultant role. So I would like to retain links with the sport and the team in the much longer term, and there will be no option of working for another team now. But there are a hell of a lot of places on this planet to visit and a lot of things to see and do. If you have the opportunity you want to make sure that you get on and do them.
Q. In the build-up to the Japanese Grand Prix the team announced its technical tie-up with Red Bull Racing for gearbox/transmission. How important a step for the team was that?
MG: I think nowadays, especially the smaller teams, they have to look for a complete power train supply. It really makes no sense, when you have got a limited head count, when you have got limited resources, you simply have got to make sure that the resources you have got are going into the bang-for-buck areas. Obviously with Concorde Agreement there is a limit in what you can buy in, but the major bits you can - which is effectively power train, you have to buy them in. Either you have a manufacturer back-up that supplies your engine and you do the gearbox, or you buy both in.
The disappointment of 2010 was that with the package we had, that one part of that was desperately unreliable. So it was very, very important that we put that right for 2011 and also took a step forward.
There were various people able to offer solutions, but with a 2010 gearbox layout, which would not have been able to accommodate the suspension layout that we are looking at. Red Bull Racing was able to offer us that, with very up-to-date technology, a very lightweight package - and with the rear suspension layout we wanted - plus integrated with the engine direction we are going.
So it doesn't just solve the problem, it also takes a step forward. The bottom line is that a large proportion of the mechanical part of the car, you know you are at cutting edge - so it is great as it takes it all out of the programme and the design resource you have got means you can focus on the bits to make the car go quicker.
Q. So you are going to go down the pull-rod suspension layout for 2011?
MG: Yes.
Q. And a bit of a challenge for you as you effectively have the same rear-end package as Adrian Newey...
MG: Several people have said, is this Adrian Newey vs Mike Gascoyne? You sort of think about it and then reply that he has a few advantages on me, in that he has had a few years at Red Bull, it wasn't a new team when he started and their budget is fairly significantly different. And they have had seven or eight years to have a crack at it.
But at the end of the day, if you have the same drive train, and the drivers of the right standard, then if you are not as quick as them it's because the car is not as good. So best you get on and make it as good - because that is the job.
Q. Was the Red Bull route something you chased from the off, as a lot of people suspected you were going the Renault route?
MG: We looked at both options, and Renault/Enstone was happy to provide us - but it was not able to provide us with a fully-fledged 2011 solution. That really tipped things in favour of Red Bull. Longer term Renault could have done, but in the short term it would have meant some compromises so it was the best solution.
Q. Force India said recently that it was expecting Mark Smith to leave the team at the end of this year, rather than April as originally planned. Are you going to get hold of him earlier?
MG: We would clearly like to, but the bottom line is that a contract exists between Mark and Force India so that is totally and utterly in their hands. Looking from a practical point of view, you get to a point where you have to ask, do you want the guy to continue doing his job usefully, and if the answer is no then the question is how long you want to continue paying him to be involved. Maybe at the sharp end of the grid with big budgets you will pay someone to sit there for six months doing nothing at home, but does it make sense for teams running off a more tightly controlled budget?
Q. Where are we at with drivers for next season?
MG: I think there will be a driver announcement in the near future. Stability is always good and I think we set out a clear intention last year in terms of where we wanted to go in terms of experienced drivers - and the bottom line is that you would not have hired two experienced drivers to do your first season and then not have two experienced drivers when you should be going racing and they can make a difference.
Q. Will there be a third driver in 2011 who can do a few Fridays?
MG: We made no secret of the fact that, having now got our partner GP2 team with AirAsia - which is very positive as GP2 is now running on the same tyres as F1 so the amount of extra information you can get on a grand prix weekend will be a big advantage - we would like our reserve driver and test driver to be our two GP2 drivers. We would want their feedback during a race weekend, so that follows that we want experienced GP2 drivers who are capable of running at the sharp end and winning.
The GP2 team will be based at Hingham with the F1 team, but operation from their unit, but its engineering team will be embedded into the grand prix team. That is a very positive thing for us, and for any prospective drivers.
Q. So do you believe that the GP2 tyre information can be an advantage for the F1 team in 2011?
MG: Yes. When you are sitting there on a Saturday afternoon, where your only real unknown is depreciation, you have a bunch of your boys running around and doing it. From the background we have, in terms of the behaviour of cars on the GP2 car and the Toyota, they are not getting differences in results. I think it will be very good information and it is an attractive proposition for GP2 drivers to have a real association with an F1 team.
Q. In Japan you made a big step forward in your fight to grab 10th place in the Constructors' Championship with a 12th placed finish. How important was that?
MG: Ultimately it was massively important because it was one of those races that had six cars out on lap two, where you could have tripped up. And to be honest, it was a really strong performance from the team. Looking at the battle of the new teams, we started in the wind tunnel three months later than everyone else and we finished it three months earlier as they are bringing updates - so to out qualify the others by more than one second and then destroy them in the race was a really strong performance.
Q. Psychologically was it good too to have delivered your best result of the season late in the season?
MG: I actually said to Tony [Fernandes] that I thought if we finished the first four races then that would have secured us 10th place. So to have done better than that is good. But to have done better than that because we raced was fantastic. We raced there - and it was a strong race performance.
Q. Three races to go then - and any could yet be a lottery. Is the plan just to keep your focus and keep doing what you are doing?
MG: Yes, that is why you employ two experienced drivers, because they did not make any mistakes or fall off on the formation lap! It is why you have those two guys in the car, the strategy was okay, and we always had it covered. Anything can happen, but you don't get that many races like Japan - and the good thing is that when it happens we got a two-car finish. It is almost giving the others no chance and that is what we need to do - to lock it out. We always say on Saturday that what we would like is a boring race to 17th!