| | |
| --- | --- |
| Stoner confident ahead of home race | |
| | |
| --- | --- |
| By Matt Beer | Thursday, October 14th 2010, 13:30 GMT |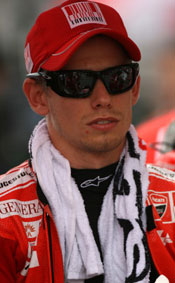 Casey Stoner says Ducati's recent improvements have left him much more confident that he can claim a fourth consecutive home grand prix victory at Phillip Island this weekend.
The Australian has not been beaten in his home country since 2006, but admitted he was pessimistic about his Phillip Island prospects until the recent turnaround that saw him win at Aragon and Motegi.
"The last two years we've been able to pick up from some bad results earlier in the season [at Phillip Island], and hopefully we can do the same [this time]," said Stoner.
"Looking at the last three races, we should be able to get on the pace a little bit quicker. But before three races ago, this race wasn't looking good for us. Our bike was basically not working in every situation that this track's got, every style of corner this track has, and now it's completely the opposite, so we'll see how this weekend goes."
Despite his spectacular form at Phillip Island, Stoner admitted he found it hard to get too excited about racing on home soil.
"It's nice to be in an environment where you feel comfortable, but with the amount of years we've been travelling now, 'home' is basically every grand prix track that we ever go to," he said. "Nothing really feels too different between this and another race.
"Of course it's one of the cooler races that we go to, and sometimes it's good to race in cool conditions without always sweating and having to work your butt off. It's a little bit easier around this track. But the fact you get to enjoy such fast corners is the best part."
Stoner goes into the final three races fourth in the championship - just one point behind Valentino Rossi and only one ahead of Andrea Dovizioso. The Australian said he was kicking himself for the first-lap crash at Sepang last weekend that allowed this battle to get so close.
"I kind of blew third place open last weekend," he admitted. "We definitely didn't do the race we expected. We expected to fight to win that race, and looking at the laptimes we were definitely in with a chance. But I made early work of that and we weren't able to do anything."