Davidson puts Peugeot on Petit pole
| | |
| --- | --- |
| By Andrew van de Burgt | Friday, October 1st 2010, 20:27 GMT |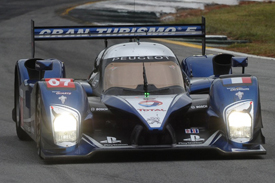 Peugeot's Anthony Davidson scorched to pole position in qualifying for tomorrow's Petit Le Mans at Road Atlanta.
The Formula 1 commentator needed just four laps to record a lap of 1m07.187s that secured his place at the top of the times. Team-mate Pedro Lamy needed a bit longer to lock-out the front row for the 908s setting a best lap of 1m07.409s.
Benoit Treluyer was the top Audi driver. He dipped below the 1m08s mark too, coming within 0.2 seconds of getting on the front row. Following a total rebuild after final practice the second Audi of Rinaldo Capello was back in fourth, half a second slower than the sister car.
It was a battle royale in P2, with Briton Guy Smith getting his Dyson Lola-Mazda onto class pole. Just two tenths covered the top three, with the CytoSport Porsche of Klaus Graf second and the Highcroft HPD of David Brabham third. LMPC pole went to Lius Diaz of PR1.
Jaime Melo grabbed the GT pole for Ferrari, pipping team-mate Gianmaria Bruni by just under 0.2s.
Behind the leading Risi cars it was a great showing for the Extreme Speed Motorsports team. Guy Cosmo came within 0.009s of a class front row, while team-mate Johannes van Overbeek was just 0.02s back demonstrating that the 430 is the car to beat around Road Atlanta.
The BMW of Dirk Muller was the quickest non-Ferrari in fifth. The Rahal Letterman driver almost half a second shy of pole. Jan Magnussen was the top Corvette qualifier, lining up sixth, just ahead of the sister car of Olivier Beretta.
The Flying Lizard entry of Patrick Long was the leading Porsche in eighth, followed by the fastest Ford GT, the Robertson Racing car with David Murry at the wheel. Just one of the two RSR Jaguars made it out in qualifying, Marc Goosens setting the 13th fastest time in class, a fraction over three seconds off Melo.
Dutch all-rounder Jeroen Bleekemolen took GTC pole for Black Swan Racing, while the Porsche hybrid-powered car failed to make it out on track.
Pos  Cl   Drivers                         Car         Time       Gap
 1.  P1   Gene/Wurz/Davidson              Peugeot     1m07.187s
 2.  P1   Lamy/Montagny/Sarrazin          Peugeot     1m07.409s  + 0.222s
 3.  P1   Fassler/Lotterer/Treluyer       Audi        1m07.610s  + 0.423s
 4.  P1   Capello/Kristensen/McNish       Audi        1m08.112s  + 0.925s
 5.  P1   Field/Field                     Lola        1m10.128s  + 2.941s
 6.  P2   Dyson/Smith/Meyrick             Lola-Mazda  1m10.417s  + 3.230s
 7.  P2   Graf/Maassen/Luhr               Porsche     1m10.548s  + 3.361s
 8.  P2   Brabham/Pagenaud/Franchitti     HPD         1m10.661s  + 3.474s
 9.  P1   Willman/Burgess/McMurry         Lola        1m14.109s  + 6.922s
10.  PC   Gonzalez/Diaz/Lewis             ORECA       1m15.296s  + 8.109s
11.  PC   Jeannette/Zugel/Julian          ORECA       1m15.525s  + 8.338s
12.  PC   Marcelli/Ducote/Ducote          ORECA       1m15.610s  + 8.423s
13.  P2   Nicolet/Da Rocha/Lafargue       Pescarolo   1m15.989s  + 8.802s
14.  PC   Montecalvo/Lux/Figge            ORECA       1m16.250s  + 9.063s
15.  PC   Tucker/Bouchut/Wilkins          ORECA       1m16.483s  + 9.296s
16.  PC   Tucker/Werner/Frisselle         ORECA       1m18.342s  + 11.155s
17.  GT2  Fisichella/Melo/Salo            Ferrari     1m19.889s  + 12.702s
18.  GT2  Vilander/Bruni                  Ferrari     1m20.070s  + 12.883s
19.  GT2  Brown/Cosmo/Barbosa             Ferrari     1m20.165s  + 12.978s
20.  GT2  Sharp/van Overbeek/Farnbacher   Ferrari     1m20.185s  + 12.998s
21.  GT2  Muller/Hand/Priaulx             BMW         1m20.322s  + 13.135s
22.  GT2  Gavin/Magnussen/Collard         Corvette    1m20.598s  + 13.411s
23.  GT2  O'Connell/Beretta/Garcia        Corvette    1m20.675s  + 13.488s
24.  GT2  Bergmeister/Long/Lieb           Porsche     1m20.768s  + 13.581s
25.  GT2  Murry/Bell/Lazzaro              Doran Ford  1m20.777s  + 13.590s
26.  GT2  Auberlen/Milner/Werner          BMW         1m20.812s  + 13.625s
27.  GT2  Sellers/Ragginger               Porsche     1m21.560s  + 14.373s
28.  GT2  Robertson/Robertson/Stanton     Doran Ford  1m21.619s  + 14.432s
29.  P2   Prendeville/Toivonen/Dempsey    Radical     1m21.820s  + 14.633s
30.  GT2  Gentilozzi/Dalziel/Goossens     Jaguar      1m22.898s  + 15.711s
31.  GT2  Law/Neiman/Holzer               Porsche     1m24.887s  + 17.700s
32.  GTC  Pappas/Bleekemolen/Bleekemolen  Porsche     1m25.141s  + 17.954s
33.  GTC  Ende/Lally/Richard              Porsche     1m25.364s  + 18.177s
34.  GTC  Potter/Davis/Eversley           Porsche     1m25.482s  + 18.295s
35.  GTC  Lewis/Vento/Aschenbach          Porsche     1m25.746s  + 18.559s
36.  GTC  Sweedler/Kapudija/Lueders       Porsche     1m26.300s  + 19.113s
37.  GTC  Rodriguez/Bieker                Porsche     1m26.628s  + 19.441s
38.  GTC  Miller/Hines/Ehret              Porsche     1m26.874s  + 19.687s
39.  GTC  Beggs/Baron/Villeneuve          Porsche     1m27.713s  + 20.526s
40.  P1   Drayson/Cocker/Pirro            Lola
41.  GT2  Davis/Said/Bell                 Doran Ford
42.  GT2  Leitzinger/Drissi/Wallace       Jaguar
43.  GT2  James/Leuenberger               Panoz
44.  PC   Downs/Downs/Downs               ORECA
45.  GTH  Bernhard/Dumas/Rockenfeller     Porsche