Massa hopeful of continued Ferrari form
| | |
| --- | --- |
| By Jonathan Noble | Wednesday, September 22nd 2010, 08:43 GMT |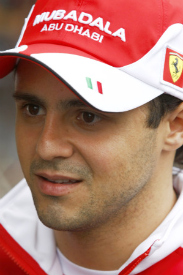 Felipe Massa says Ferrari needs to be ready for everything that will be thrown at it in the final five races of the season, as he keeps his fingers crossed the team can keep up its recent strong form.

Ferrari has scored the most points of any team in the last four races and that run of form has allowed Fernando Alonso to edge closer to the front of the world championship standings.

With Ferrari's F10 likely to be well-suited to the new Singapore track, especially with a raft of aerodynamic updates including new front and rear wings, plus a new floor, Massa is cautiously optimistic about the team's chances of making further progress with its title ambitions.
"I hope we can be competitive in Singapore, I hope we can be competitive in the next five races," Massa told the official Ferrari website. "But definitely we always need to be ready and looking at our competitors. We have seen a very, very strong Red Bull during the whole championship and McLaren, some races were very strong and some races a bit less.

"So it is something that we need to be sure of, [that] at every race that we go we are completely prepared for everything. In Monaco we were competitive so I hope we will be competitive in Singapore."
Massa concedes that his own title prospects are all but over - with him lying 63 points adrift of points leader Mark Webber – and reckons three non-scores early in the season effectively wrecked his title prospects.
"The feeling is that we had some ups and downs during the championship," he said. "I had a very bad three races where I couldn't score points, which was Canada, Valencia and Silverstone.

"They were races where we could have scored a good amount of points and could have been in a good position fighting for the championship. So that was not very great in terms of the championship, but it is also true that in the last four races we have scored more points than the other teams. We have five races to go and I hope we carry on like we did in the last four races."
Massa will get his hands on a new chassis for the Singapore race, but he does not think it will make any difference to his form.

"I think with the technology we have now in F1, when you change one chasiss to another it is the same," he said. "When you have a problem with the chassis you can see it – but anyway during the championship we change two or three times the chassis and normally it is the same."