Stewart laments losing Loudon win
| | |
| --- | --- |
| By Diego Mejia | Tuesday, September 21st 2010, 07:48 GMT |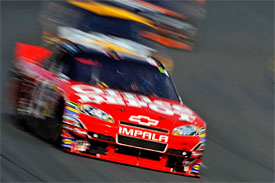 Tony Stewart lamented losing a likely win in the Chase opener at Loudon this weekend as he ran out of fuel right before taking the white flag.
The two-time Sprint Cup series champion took the lead early into Sunday's race and despite dropping in the order following his first pitstop, he was able to get back to the front and eventually lead the race again in the deciding stages.
After staying on the track when many pitted during the sixth of eight caution periods, Stewart briefly lost the lead to Earnhardt Ganassi's Jamie McMurray, re-passing him with 52 laps remaining, then pulling away while try to save enough fuel to make it to the finish.
But despite being on the same pit sequence as eventual winner Clint Bowyer, his car ran out of fuel on the penultimate lap at the exit of turn four, just a few seconds after Bowyer's RCR teammate Jeff Burton, also on the same strategy, suffered a similar blow.
"I'm not happy, that's for sure, but we went down swinging," said Stewart. "It's hard to lose one that way but at the same time it was fun racing Clint like that. He was definitely the fastest car and congratulations to those guys.
"It's a tough way to start the Chase but I'm proud of my guys. Darian [Grubb, crew chief] kept swinging at it all day and finally on that last set of tires we got it halfway decent."
Stewart said that had he known he was so marginal on his fuel mileage he would have accepted finishing second behind Bowyer, but unfortunately the numbers didn't meet the targets on his team's calculations, ending around a mile short of scoring his second win of the year.
"I would have settled for second," accepted Stewart. "If you knew exactly how much gas you have it would be different, but you never know. It's part of the sport, always has been. It's what makes it exciting when you never know until the last lap what's going to happen
"...[Clint Bowyer] had a great car all day. He did a good job of saving fuel and I didn't do a good job."
A victory on Sunday would have placed Stewart up in second place in the Chase standings, but his 24th place finish meant he dropped five places in the playoff down to eleventh, only ahead of Roush Fenway's Matt Kenseth.
But despite a 124-point deficit to leader Denny Hamlin, Stewart says it's still too early in the playoff to give up on his title hopes.
"There is so much that can happen in nine races," said Stewart. "I promise you this: This team is not going to give up. We'll do the best we can and give it our best shot."
Sunday's result has been Stewart's worst for a Chase opener since he missed the playoff in 2006.