Schumacher says 12th was the maximum
| | |
| --- | --- |
| By Pablo Elizalde | Saturday, September 11th 2010, 14:24 GMT |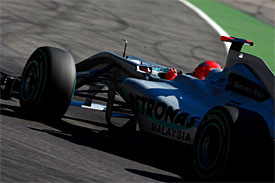 Michael Schumacher says 12th position on the grid at Monza was probably the best result he could have achieved given the speed of his car.
The Mercedes driver finished five places behind team-mate Nico Rosberg, admitting that the balance of his car was not perfect during the session.
Schumacher said he is still hoping for a points finish tomorrow.
"I am obviously not very happy with our qualifying today but my position is probably what my car was giving me," said Schumacher.
"We did not have a perfect balance, especially in some corners where the car was a bit loose, but then we did not come here expecting to achieve a great performance.
"However the race will be long tomorrow and having been welcomed so nicely by all of my Italian fans, I obviously wish to at least grab some points for them."
Rosberg also reckons his position was the maximum he could have achieved.
"Seventh place is definitely the best performance that was possible for us today so both I and the team can be pleased with that," he said. "However we obviously want to be further up the grid so we shouldn't get too used to being happy with such results.
"In race trim, we are probably a little stronger than in qualifying, so I can hopefully gain a place or two tomorrow if something happens amongst the top six guys, and look to achieve some good points."