Q & A: Gutierrez on clinching GP3 title
| | |
| --- | --- |
| By Mark Glendenning | Saturday, September 11th 2010, 09:09 GMT |
After dominating the inaugural GP3 Series season, the only real surprise about Esteban Gutierrez wrapping up the title is that he didn't do it two weeks ago at Spa.
A rare tough weekend thwarted him in Belgium, but he put things right by taking pole position for this weekend's final round at Monza, giving him the last two points he needed to finally put him beyond the reach of championship rival Robert Wickens. In doing so, he also helped ART Grand Prix to seal the teams' title.
AUTOSPORT spoke to the Mexican about being crowned the first GP3 champion.
Q. You've been the guy to beat for pretty much the entire season, but it must be nice to finally have the inaugural GP3 title under your belt?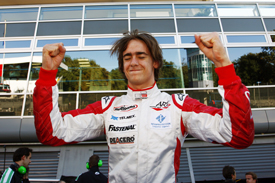 Esteban Gutierrez: Yeah. Well, I think we really deserved it as a team. From the beginning our main focus was not only to win races and to win the championship, but to be consistent through the whole season. And in the end we have been able to keep a high level of consistency, and we have been working to improve ourselves and not think too much about the other guys.
We've just tried to do our best and focus on the job. Every mechanic, every engineer did his job and we had a really good synergy and a really good attitude. Everyone was really positive all the time, even in the hard times.
Q. You didn't have that many hard times though, apart from Spa.
EG: Yeah, Spa was definitely tough. But still, we have to keep a cool head now. I think it's all about learning from our experience - you are always having new experiences, and you can always learn from them so that you can go on and do other things and go forward. We have accomplished something that we set out to do at the beginning of the season, and now we have to turn the next page and start a new adventure.
Q. Was it important to you to secure the championship in qualifying this morning so that you didn't have to worry about it in the race later on?
EG: No. To be honest, I just tried not to think about the championship. Away from the championship, we just wanted to get another pole and try to get another victory. This weekend is not over yet; there are still two races to go. We've been working a lot away from the track in the workshop, and I think it has paid off.
Q. So you won't be relaxing in the race?
EG: No. Same effort. It's another race and it has the same importance as all the others. It's still part of the championship, so we have to keep cool and be intelligent in the race.
Q. ART appeared to get a handle on the car a lot quicker than other teams this year. What was the secret?
EG: I think it was just that synergy and the approach that we have mentally that I was talking about. The engineers work very hard at the track and in the workshop on all the details, and we drivers have been involved in that work, and I think that makes this a special team. Everybody is a friend, and everybody is sharing experiences in a good way. We're all very friendly, we enjoy the work, and enjoying it is the most important thing.
Q. Is GP2 the next step?
EG: To be honest there is a long way to go. We have to think about next year and we will be doing that in the next few months. But the priority is to do GP2, and we'll see what opportunities we have and try to get into a good seat.