Team: Solberg penalty a close call
| | |
| --- | --- |
| By David Evans | Saturday, September 11th 2010, 06:06 GMT |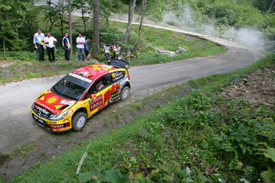 Petter Solberg World Rally Team manager Ken Rees has revealed to AUTOSPORT that Petter Solberg lost the Rally Japan lead after he started SS13 just one tenth of a second too soon.
Rees contacted the event organisers soon after finding out about the jump-start to query the decision as Solberg felt he had done nothing wrong. The onboard television camera footage showed he crossed the line as 12:21.59.9 instead of 12:22.00.0.
"It's incredible," said Rees. "Petter has never jumped the start of a stage before, which is why we talked to the organisers. Let's face it, if you were going to purposefully jump the start, you'd do it for more than a tenth of a second. A tenth of a second isn't the blink of an eye.
"It would be nice if there was some leniency, but when the event is timed to the tenth of a second, there's not really anywhere to go. We just have to deal with it and make sure it doesn't define our rally."
Solberg said: "I didn't do anything different. I pulled up at the start, the guy told me where to stop on the line and we did everything as normal."
The penalty dropped Solberg from first to third.