Kubica not making predictions for Monza
| | |
| --- | --- |
| By Jonathan Noble and Rob Schatten | Thursday, September 9th 2010, 14:24 GMT |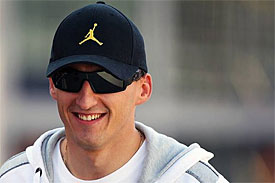 Robert Kubica is not making predictions ahead of this weekend's Monza Grand Prix, but is hopeful that his Renault car will carry over its impressive performance from Spa two weeks ago.
"Monza is a difficult track to predict as it has quite different characteristics to all the other tracks we've been to," Kubica told reporters on Thursday.
"Especially this year, with the F-duct, it might be a different story.
"We have seen in the past here, often midfield cars are very competitive and the cars can be more mixed [than in other races], so hopefully we will have a competitive car here."
Renault successfully raced its version of the F-duct at the Belgian Grand Prix and the modification helped Kubica to a podium finish.
And the Pole was encouraged by the results from the new F-duct at Spa, saying: "In the coming races we should be more competitive because the F-duct is clearly giving us advantages. Of course, Spa is one of the best circuits for [using] the F-duct, but looking at where we were before we introduced the F-duct, we should be closer to the top."
However, Kubica was less confident that the F-duct would produce large-scale improvements at Monza - a track that many had thought would challenge Renault.
Using different wings due to the need for greater downforce could, he feared, negate the advance from the F-duct.
"Here in Monza it is a bit different [from Spa] because we are using different wings, and the F-duct influence on the driving is much smaller. Top speed is still very important, there are very long straights here."