Chandhok completes Korean demo run
| | |
| --- | --- |
| By Matt Beer | Saturday, September 4th 2010, 10:09 GMT |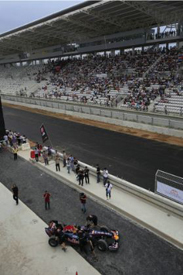 Concerns over the readiness of Korea's new Formula 1 venue have been eased after Red Bull Racing completed a successful demonstration run at the track with Karun Chandhok today.
The Indian - who is still under contract to Hispania but was loaned to Red Bull for the event as its own drivers were unavailable - completed 14 laps of the circuit, which is scheduled to host its inaugural grand prix on 24 October.
There have been fears that the race could be called off amid suggestions that construction work will not be completed in time, but Chandhok reckoned the circuit would be ready.
"Looking at the facilities, the garages and team buildings look pretty much finished and they're big," said Chandhok. "I think teams will need to bring around 30 per cent more furniture to fill them! The grandstands also look reasonably finished.
"The track itself needs a bit more work on the asphalt and the kerbs, but the organisers think it's all within their time-lines and are confident that it will be ready on time. And the location's nice, we're overlooking the sea."
He was also impressed with the track itself, predicting that there would be plenty of overtaking chances.
"It's a really interesting layout," he said. "The track's got a good mix of corners and I think we'll see a lot of overtaking in the first sector - there are long straights into slow hairpins.
"The straight after Turns 1 and 2 is really long, so we may see some good slipstreaming there, like in Shanghai.
"From Turn 7 onwards, there's a fast section of flowing corners all the way back to the start-finish line - so I think the Red Bull Racing guys will be happy in sectors
two and three. It's an interesting layout."
Red Bull reported a turnout of around 4,000 spectators for the demonstration event, which also saw Formula BMW and local touring cars try the circuit.
"There's certainly some enthusiasm for F1 here," said Chandhok. "There are a lot of people at the event today, which wasn't heavily publicised, and there's a lot of media, which shows an interest.
"The organisers say they have sold a significant amount of tickets, so it should be a good race."