Teams won't favour title chasers yet
| | |
| --- | --- |
| By Jonathan Noble | Sunday, August 29th 2010, 17:46 GMT |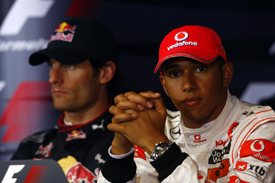 Red Bull Racing and McLaren both insist it is too early to throw all their weight behind their leading drivers, despite Mark Webber and Lewis Hamilton breaking clear at the head of the championship standings after the Belgian Grand Prix.
With just six races to go, Webber and Hamilton are more than a race win clear of their team-mates - which has prompted talk that now is the time for their outfits to start favouring one of their drivers if they are to nail their title hopes.
Webber himself admitted after the Spa race that the time was close for Red Bull Racing to start concentrating more on his own title ambitions.
But despite the points situation, and the fact that Ferrari's leading contender Fernando Alonso failed to score, the two main title fighters insist that they are not yet thinking of supporting one of their drivers over the other.
Red Bull Racing team principal Christian Horner said: "There are 150 points still available and the two guys have broken away a little bit from the rest of the pack - with the other three title protagonists not scoring today.
"But I think it is still too early to be contemplating that [supporting one driver]. All five are still in this championship and, with the way the points scoring is, the gaps can look deceptive because, while they look quite large, in reality they can reduce dramatically very, very quickly. 150 points are still on the board, and it is a bit premature to be talking about that at the moment."
When asked by AUTOSPORT whether he expected Webber to start pushing for number one status soon – after the Australian said that the matter depends on 'how hungry' his team is to win – Horner replied: "No I don't. Mark, he is a sportsman and a realist, and he knows the numbers better than anyone else.
"He is realistic to know that things can change very, very quickly. But he is in a great position. If we can get through Monza in a similar situation then hopefully we can come back to tracks that we know will suit our package."
McLaren team principal Martin Whitmarsh was equally sure that Hamilton would still be treated on totally equal terms to Jenson Button.
"I've been with both drivers tonight – and Jenson was saying to Lewis: 'I'm 35 points behind but I still have to nail you'," said Whitmarsh. "And that is how it should be.
"It does fluctuate, but Jenson was very, very unlucky today in my opinion. I think that he should have scored points and he should have been right up there. It can change very quickly in the next few races."