Tambay leads wet GP3 practice
| | |
| --- | --- |
| | Friday, August 27th 2010, 18:38 GMT |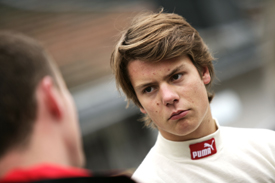 Adrien Tambay was quickest in very difficult conditions in the GP3 practice session at Spa.
Practice was wet throughout, and by the end of the half hour fog was also descending over the circuit.
Manor driver Tambay emerged fastest with a 2m29.381s lap, following a late battle with Jenzer's Nico Muller and championship leader Esteban Gutierrez (ART) - beating them by half a second and one second respectively.
Tambay's team-mate Adrian Quaife-Hobbs was just behind Gutierrez in fourth, with Nigel Melker (Mucke) and Roberto Merhi (Atech CRS) completing the top six.
Pos  Driver                  Team        Time       Gap
 1.  Adrien Tambay           Manor       2m29.381s
 2.  Nico Muller             Jenzer      2m29.940s  + 0.559s
 3.  Esteban Gutierrez       ART         2m30.424s  + 1.043s
 4.  Adrian Quaife-Hobbs     Manor       2m30.465s  + 1.084s
 5.  Nigel Melker            RSC Mucke   2m30.948s  + 1.567s
 6.  Roberto Merhi           Atech CRS   2m31.394s  + 2.013s
 7.  Simon Trummer           Jenzer      2m31.592s  + 2.211s
 8.  Miki Monras             MW Arden    2m31.683s  + 2.302s
 9.  Vittorio Ghirelli       Atech CRS   2m31.805s  + 2.424s
10.  Leonardo Cordeiro       MW Arden    2m31.927s  + 2.546s
11.  Robert Wickens          Status      2m32.058s  + 2.677s
12.  Oliver Oakes            Atech CRS   2m32.064s  + 2.683s
13.  Daniel Juncadella       Tech 1      2m32.114s  + 2.733s
14.  Stefano Coletti         Tech 1      2m32.197s  + 2.816s
15.  Dean Smith              Carlin      2m32.222s  + 2.841s
16.  Michael Christensen     MW Arden    2m32.235s  + 2.854s
17.  Rio Haryanto            Manor       2m32.258s  + 2.877s
18.  Antonio Felix da Costa  Carlin      2m32.308s  + 2.927s
19.  Doru Sechelariu         Tech 1      2m32.468s  + 3.087s
20.  Renger van der Zande    RSC Mucke   2m32.653s  + 3.272s
21.  Josef Newgarden         Carlin      2m32.665s  + 3.284s
22.  Tobias Hegewald         RSC Mucke   2m32.776s  + 3.395s
23.  Daniel Morad            Status      2m32.848s  + 3.467s
24.  Pal Varhaug             Jenzer      2m33.099s  + 3.718s
25.  Mirko Bortolotti        Addax Team  2m33.134s  + 3.753s
26.  Ivan Lukashevich        Status      2m33.319s  + 3.938s
27.  Alexander Rossi         ART         2m33.620s  + 4.239s
28.  Pablo Sanchez Lopez     Addax Team  2m34.787s  + 5.406s
29.  Pedro Nunes             ART         2m34.851s  + 5.470s
30.  Felipe Guimaraes        Addax Team  2m39.307s  + 9.926s