Drivers unfazed by mammoth stage
| | |
| --- | --- |
| By David Evans | Thursday, August 19th 2010, 14:26 GMT |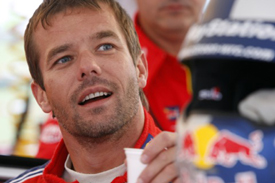 The leading drivers in the World Rally Championship are playing down the challenge of Rally Germany's 30-mile Arena Panzeplatte test, which runs on Saturday.
Having seen the season's longest stage for the first time on the recce yesterday, world champion Sebastien Loeb said he did not expect to see big differences in the times of the top drivers through the stage which runs twice on day two of the Trier-based event.
"Maybe Panzerplatte can be crucial," said Loeb. "It's a difficult stage, it's so long and rough. It will be difficult for the tyres, but we've seen before that it's not always in the long stages where there is the problem. We have seen on the long stages in Spain, the times are not so different, I think it will be like this again on Saturday."
After heavy rain during the recce, Saturday's forecast is for sunshine and 30 degrees, causing concern over the durability of the Pirelli control tyre in such a long stage.
Asked whether the tyre would last, Loeb replied: "Ask me after the stage!"
Matthew Wilson's co-driver Scott Martin admitted the Stobart crew were looking forward to the challenge.
"It's going to be interesting," Martin said. "There are 100 junctions in the stage, which means a junction every 500 metres. It's going to be a busy stage for the driver and the co-driver. It took us almost an hour to recce the stage.
"The problem is that when you get into the arena area, there are so many junctions that you can't really get any kind of rhythm going: it's stop and start all of the time. But it's definitely a challenge."