Dyson takes Mazda to first ALMS win
| | |
| --- | --- |
| By Matt Beer | Saturday, August 7th 2010, 22:05 GMT |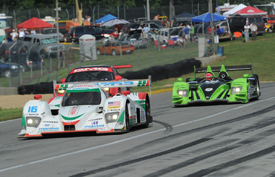 Dyson Racing gave Mazda its first outright American Le Mans Series victory as Chris Dyson fended off the Highcroft HPD by just half a second in a stunning finish at Mid-Ohio.
Highcroft's Simon Pagenaud and David Brabham had appeared to lack winning pace for most of the race, but the Frenchman closed right in late on. Dyson was able to resist the pressure though, ending his team's victory drought and giving Mazda its maiden triumph.
For much of the race, both cars had trailed the Intersport Lola, which Clint Field had thrust into the lead at the start. He stayed there for nearly two hours, but the car fell back to third when Field had to hand over to his co-driving father Jon at a late yellow - while Intersport's rivals had already made their driver swaps. The car later dropped out of third with a mechanical problem. The polesitting Drayson car retired after contact in traffic.
Christophe Bouchut and Scott Tucker of Level 5 won LMPC, hitting the front when Gunnar Jeanette spun out of the lead.
Jaime Melo and Gianmaria Bruni won an epic GT contest in the Risi Ferrari, which was slowed for a while by a fuel problem mid-race. A superb charge by Melo brought the car back into contention, and eventually into the lead, where he was able to stay despite Oliver Gavin's Corvette catching him in the final moments.
There was drama in GTC too, where the Black Swan car of Jeroen Bleekmolen and Tim Pappas came back from a first lap spin to win.
Pos  Cl   Drivers                    Car             Time/Gap
 1.  P    Dyson/Smith                Lola-Mazda  2h45m17.657s
 2.  P    Brabham/Pagenaud           HPD             + 0.506s
 3.  PC   Tucker/Bouchut             ORECA           + 4 laps
 4.  P    Willman/Drissi             Lola            + 5 laps
 5.  PC   Gonzalez/Diaz              ORECA           + 5 laps
 6.  PC   Jeannette/Julian           ORECA           + 6 laps
 7.  PC   Marcelli/Wong              ORECA           + 6 laps
 8.  PC   Tucker/Wallace             ORECA           + 6 laps
 9.  GT   Melo/Bruni                 Ferrari         + 7 laps
10.  GT   Beretta/Gavin              Corvette        + 7 laps
11.  GT   Auberlen/Milner            BMW             + 7 laps
12.  GT   Bergmeister/Long           Porsche         + 7 laps
13.  GT   Sharp/van Overbeek         Ferrari         + 7 laps
14.  GT   Mueller/Hand               BMW             + 7 laps
15.  PC   Montecalvo/Zugel           ORECA           + 8 laps
16.  GT   Pilet/Neiman               Porsche         + 8 laps
17.  GT   Sellers/Henzler            Porsche         + 9 laps
18.  GT   Gentilozzi/Goossens        Jaguar         + 12 laps
19.  GTC  Pappas/Bleekemolen         Porsche        + 13 laps
20.  GTC  Curtis/Sofronas            Porsche        + 14 laps
21.  GTC  Sweedler/Kapudija          Porsche        + 14 laps
22.  GTC  Miller/Hines               Porsche        + 14 laps
23.  GTC  Lewis/Vento                Porsche        + 16 laps
24.  GTC  Richard/Pumpelly           Porsche        + 16 laps
25.  GTC  Beggs/Baron                Porsche        + 16 laps

Retirements

     P    Field/Field                Lola        100 laps
     GT   Fisichella/Vilander        Ferrari     100 laps
     GT   Brown/Cosmo                Ferrari     96 laps
     GT   Murry/Robertson/Robertson  Doran Ford  96 laps
     GT   Magnussen/O'Connell        Corvette    49 laps
     P    Buncombe/Prendeville       Radical     44 laps
     P    Drayson/Cocker             Lola        39 laps