CytoSport takes maiden ALMS win
| | |
| --- | --- |
| By Jamie O'Leary | Saturday, July 24th 2010, 21:04 GMT |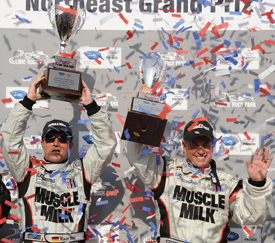 Klaus Graf and Greg Pickett gave the CytoSport Porsche team its maiden American Le Mans Series victory in a dramatic finale at Lime Rock.

Having come under heavy pressure from David Brabham's Highcroft HPD with just 10 minutes of the race remaining, the cars came together while lapping Luke Hines' GTC Porsche, Brabham's car being pushed onto the grass.

Graf was served with a stop/go penalty for causing the incident - which he took at the earliest opportunity - while Brabham sustained a rear puncture as a result of running off the road and was forced to pit for a replacement.

The result was that Graf, who had taken the car over from Pickett within the first hour, was able to ease off his pace on a track that had become slippery after rain began to fall during the final half hour. Brabham brought the car he shared with Simon Pagenaud home in second and maintained the pair's series lead in the LMP class.

Theirs were the only LMP cars in contention for victory as the Dyson Lola of Chris Dyson and Jonathan Cocker's Drayson Lola - both of which disputed the lead on the opening lap - hit problems early on.
The Drayson car did make the finish in 24th place, but was thwarted by suspected ECU problems that required a lengthy couple of pitstops.

Gunnar Jeannette and Elton Julian won the LMPC class in their Green Earth Team Gunnar machine.

Jeannette ran out of fuel on the last lap, but with the second-placed car of long-time leaders Alex Figge/Tom Papadopoulos having been lapped for a final time by Graf with just 100m to go before the finish line, Jeannette hung on to victory.

Pat Long and Jorg Bergmeister collected the Flying Lizard Porsche team's third GT win of the year, the crew taking the chequered flag by just 1.5s from the Bill Auberlen/Tom Milner BMW.

Long/Bergmeister claimed the championship lead from Risi Ferrari crew Jaime Melo/Gianmaria Bruni. Melo was put into the tyres early on by Johnny O'Connell's Corvette, which later retired.

Victory in the GTC class went to TRG and drivers Andy Lally and Henri Richard, who came out on top in a battle with the Jeroen Bleekemolen/Tim Pappas Black Swan Porsche.
Pos  Cl   Drivers              Car             Time/Gap
 1.  P    Pickett/Graf         Porsche     2h45m04.386s
 2.  P    Brabham/Pagenaud     HPD            + 27.810s
 3.  PC   Jeannette/Julian     ORECA           + 9 laps
 4.  PC   Figge/Papadopoulos   ORECA           + 9 laps
 5.  GT   Bergmeister/Long     Porsche        + 10 laps
 6.  GT   Auberlen/Milner      BMW            + 10 laps
 7.  GT   Muller/Hand          BMW            + 10 laps
 8.  GT   Salo/Kaffer          Ferrari        + 11 laps
 9.  GT   Beretta/Gavin        Corvette       + 12 laps
10.  PC   Tucker/Wallace       ORECA          + 13 laps
11.  GT   Sharp/van Overbeek   Ferrari        + 14 laps
12.  GT   Law/Neiman           Porsche        + 14 laps
13.  GT   Sellers/Henzler      Porsche        + 15 laps
14.  GTC  Richard/Lally        Porsche        + 19 laps
15.  GT   Dalziel/Goossens     Jaguar         + 19 laps
16.  GTC  Pappas/Bleekemolen   Porsche        + 20 laps
17.  GT   Brown/Cosmo          Ferrari        + 21 laps
18.  GTC  Lewis/Vento          Porsche        + 22 laps
19.  PC   Sedivy/Zugel         ORECA          + 25 laps
20.  GTC  Curtis/Sofronas      Porsche        + 25 laps
21.  GTC  Miller/Hines         Porsche        + 31 laps
22.  P    Field/Field          Lola           + 31 laps
23.  GTC  Sweedler/Kapudija    Porsche        + 48 laps
24.  P    Drayson/Cocker       Lola           + 58 laps
25.  GT   Murry/Robertson      Doran          + 61 laps

Retirements:

     PC   Marcelli/Wong        ORECA       108 laps
     GT   Magnussen/O'Connell  Corvette    35 laps
     GT   Melo/Bruni           Ferrari     22 laps
     P    Dyson/Smith          Lola-Mazda  7 laps
     PC   Tucker/Bouchut       ORECA       0 laps