Penalties leave grid in state of flux
| | |
| --- | --- |
| By Mark Glendenning | Saturday, July 24th 2010, 07:53 GMT |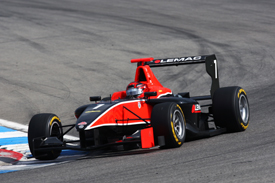 James Jakes has topped this morning's GP3 qualifying session at Hockenheim, although an expected raft of penalties from yesterday's free practice session means that the final grid could change drastically.
On a wet but drying track, Jakes had taken control of the session during the final 10 minutes, and while Robert Wickens and Roberto Merhi both briefly managed to topple him, the Manor driver always responded and finally secured the top spot with his final flying lap of 1m46.559s.
Wickens was 0.395s behind him in second, followed by Josef Newgarden, Merhi, Adrian Quaife-Hobbs and Michael Christensen.
Early pace-setter Renger van der Zande faded in the second half of the session and ended up eighth-quickest, while runaway points leader Esteban Gutierrez ended up tenth.
However with no fewer that 21 drivers under investigation for setting their best laps under double waved yellows yesterday afternoon, a dramatic reshuffle of the grid is expected once any penalties have been applied.
Qualifying times:
Pos  Driver                Team       Time       Gap
 1.  James Jakes           Manor      1m46.559s
 2.  Robert Wickens        Status     1m46.954s  + 0.395s
 3.  Josef Newgarden       Carlin     1m47.176s  + 0.617s
 4.  Roberto Merhi         Atech CRS  1m47.286s  + 0.727s
 5.  Adrian Quaife-Hobbs   Manor      1m47.334s  + 0.775s
 6.  Michael Christensen   MW Arden   1m47.422s  + 0.863s
 7.  Daniel Juncadella     Tech 1     1m47.593s  + 1.034s
 8.  Renger van der Zande  RSC Mucke  1m47.639s  + 1.080s
 9.  Rio Haryanto          Manor      1m47.641s  + 1.082s
10.  Esteban Gutierrez     ART        1m47.649s  + 1.090s
11.  Nigel Melker          RSC Mucke  1m47.800s  + 1.241s
12.  Simon Trummer         Jenzer     1m47.920s  + 1.361s
13.  Nico Muller           Jenzer     1m47.927s  + 1.368s
14.  Stefano Coletti       Tech 1     1m48.058s  + 1.499s
15.  Mirko Bortolotti      Addax      1m48.062s  + 1.503s
16.  Dean Smith            Carlin     1m48.078s  + 1.519s
17.  Tobias Hegewald       RSC Mucke  1m48.199s  + 1.640s
18.  Pal Varhaug           Jenzer     1m48.245s  + 1.686s
19.  Alexander Rossi       ART        1m48.316s  + 1.757s
20.  Miki Monras           MW Arden   1m48.459s  + 1.900s
21.  Leonardo Cordeiro     MW Arden   1m48.595s  + 2.036s
22.  Doru Sechelariu       Tech 1     1m48.866s  + 2.307s
23.  Daniel Morad          Status     1m48.903s  + 2.344s
24.  Felipe Guimaraes      Addax      1m48.918s  + 2.359s
25.  Pedro Nunes           ART        1m48.965s  + 2.406s
26.  Pablo Sanchez Lopez   Addax      1m49.058s  + 2.499s
27.  Lucas Foresti         Carlin     1m49.186s  + 2.627s
28.  Oliver Oakes          Atech CRS  1m49.246s  + 2.687s
29.  Ivan Lukashevich      Status     1m49.667s  + 3.108s
30.  Vittorio Ghirelli     Atech CRS  1m49.906s  + 3.347s