Wilson storms to Toronto pole
| | |
| --- | --- |
| By Matt Beer | Saturday, July 17th 2010, 18:10 GMT |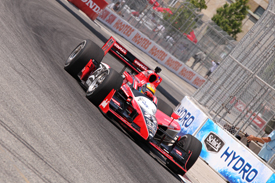 Justin Wilson took his first pole in the IndyCar Series with a commanding performance in Toronto.
The Dreyer & Reinbold driver cruised through the first two segments of qualifying without even having to use Firestone's softer red tyres - going fastest of all in the top 12 session on the harder black-walled rubber while all his rivals tried in vain to beat him on reds.
Wilson then swiftly produced a 1m00.2710s lap in the Fast Six session to secure provisional pole, and that time proved unbeatable.
Championship leader Will Power was Wilson's nearest rival, just under 0.2 seconds adrift. Power's Penske team-mate Helio Castroneves took third, despite having to park in the run-off at the end of the pole shoot-out.
Ryan Hunter-Reay took fourth for Andretti Autosport, ahead of Ganassi duo Dario Franchitti and Scott Dixon, with Penske's third driver Ryan Briscoe just missing the top six cut in seventh.
Although only Hunter-Reay reached the Fast Six, all four Andretti cars got beyond the group stages, with Tony Kanaan, Marco Andretti and Danica Patrick to start in eighth, 10th and 12th respectively - a significant improvement on the latter's recent road/street course pace.
Alex Tagliani kept up his strong form at home to take ninth on the grid for Fazzt, although fellow Canadian hero Paul Tracy had a disastrous session - ending up 24th for KV Racing after spinning in the first part of qualifying. Vitor Meira (Foyt) crashed at the same time and will start last, while Tracy's KV team-mate Takuma Sato's car came to a halt on track with a mechanical problem, leaving him 18th.
Raphael Matos (De Ferran Dragon) recovered from his morning crash to take 12th, while EJ Viso (KV) - who had been rapid in practice - and returnee Graham Rahal (Newman/Haas) were the fastest drivers knocked out in the group sessions and will share row seven.
Pos  Driver               Team               Time        Session
 1.  Justin Wilson        Dreyer & Reinbold  1m00.2710s  Fast six
 2.  Will Power           Penske             1m00.4563s  Fast six
 3.  Helio Castroneves    Penske             1m00.8159s  Fast six
 4.  Ryan Hunter-Reay     Andretti           1m00.8397s  Fast six
 5.  Dario Franchitti     Ganassi            1m00.9477s  Fast six
 6.  Scott Dixon          Ganassi            1m00.9541s  Fast six
 7.  Ryan Briscoe         Penske             1m00.9141s  Top 12
 8.  Tony Kanaan          Andretti           1m00.9212s  Top 12
 9.  Alex Tagliani        FAZZT              1m00.9996s  Top 12
10.  Marco Andretti       Andretti           1m01.2297s  Top 12
11.  Raphael Matos        De Ferran Dragon   1m01.2820s  Top 12
12.  Danica Patrick       Andretti           1m01.4580s  Top 12
13.  EJ Viso              KV                 1m01.4087s  Group 1
14.  Graham Rahal         Newman/Haas        1m01.7024s  Group 2
15.  Dan Wheldon          Panther            1m01.6926s  Group 1
16.  Bertrand Baguette    Conquest           1m01.8072s  Group 2
17.  Mario Romancini      Conquest           1m01.9575s  Group 1
18.  Takuma Sato          KV                 1m01.8130s  Group 2
19.  Tomas Scheckter      Dreyer & Reinbold  1m02.0426s  Group 1
20.  Mario Moraes         KV                 1m02.0953s  Group 2
21.  Simona de Silvestro  HVM                1m02.0547s  Group 1
22.  Hideki Mutoh         Newman/Haas        1m02.1453s  Group 2
23.  Alex Lloyd           Dale Coyne         1m02.6142s  Group 1
24.  Paul Tracy           KV                 1m02.5387s  Group 2
25.  Milka Duno           Dale Coyne                     Group 1
26.  Vitor Meira          Foyt               1m03.0741s  Group 2