Elated Hamilton hails 'best ever lap'
| | |
| --- | --- |
| By Pablo Elizalde | Saturday, July 10th 2010, 14:02 GMT |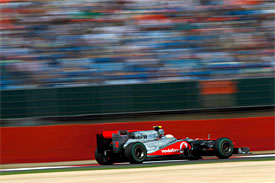 Lewis Hamilton says his final qualifying lap on Saturday was his best ever after securing a place on the second row of the grid for the British Grand Prix.
Hamilton and his McLaren team have been forced to remove their upgrade package from their car following yesterday's practice, and the team has struggled to match the pace of its main rivals.
The McLaren driver, however, put on a strong performance in Q3 and will start the race from fourth position, ten places ahead of team-mate Jenson Button.
A delighted Hamilton said it had been his best ever lap, and insisted the upgrade package just needs time before it works perfectly.
"Fourth is... I'm so happy with it, you can't believe it," said Hamilton. "I'm so proud of my team because we pushed so hard all year, but in the last couple of days they pushed longer and harder than ever to get this update package, which is an improvement, but we just were unable to work it.
"And unfortunately we had to take it off last night. We knew we were a long way off. The Red Bull is a second and a bit ahead and have three teams with the blown diffuser who were ahead of us, and it was really about getting the best last possible.
"I have to say for me this is the best lap I've ever had. And I think it's down to all the fans we have here. The support you have around this track is like nowhere else. British fans are the best by far."
And the Briton is adamant that a good result is still possible despite all of McLaren's problems during the weekend.
"I don't know how was I able to get so high up but I'm so, so happy," he added. "I think it's a great position for us.
"The race is not over. These guys are clearly faster than us but we can still get a great result tomorrow."