Trulli: Pirelli move will have big impact
| | |
| --- | --- |
| By Simon Strang and Pablo Elizalde | Friday, July 9th 2010, 08:47 GMT |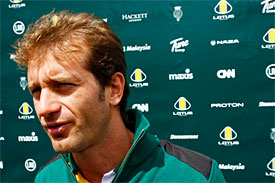 Jarno Trulli believes Pirelli's return to Formula 1 will have a big impact on the drivers because of the differences in the tyres the Italian manufacturer will use.
Pirelli has been chosen as Formula 1's sole tyre supplier from 2011, when it will replace Japanese company Bridgestone.
"It is a big question for a driver. I know from experience that this is going to have a big impact," Trulli said at Silverstone.
"How closely we can work with Pirelli to make the best in that direction - it's tough to say.
"I know that we require a lot of data but I don't know how much we can have until we get the tyres and we are sure what we are talking about. It's all theory at the moment.
"You need to test the car in certain conditions with certain tyres otherwise you are never going to find out. This is obviously the same up and down the paddock."
Trulli is optimistic he will adapt well to the new tyres, just like he had to do when Formula 1 used grooved rubber before a return to slicks.
"The grooves required a very aggressive and strange driving style," he said. "The reason was because you had to wear the tyres and be aggressive at a certain stage in order to clean them up. One of my best seasons was actually when we had one set of tyres for the whole race (in 2005).
"In fact the grooves had to last the whole race so they were never soft enough to grain, so I was always very good. Graining was always an issue for my driving style.
"It was the same for everybody of course, but obviously for some people it was an advantage, some others less so."