Massa urges FIA to act over SC rules
| | |
| --- | --- |
| By Pablo Elizalde | Thursday, July 1st 2010, 09:42 GMT |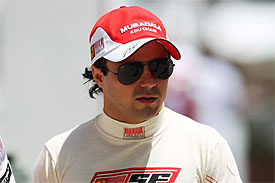 Ferrari driver Felipe Massa has urged the FIA to act to revise Formula 1's rules in order to avoid a repeat of what happened at the European Grand Prix last Sunday.
The Italian squad has been angry since the Valencia race, where McLaren's Lewis Hamilton finished in second place despite having to serve a drive-through penalty, which Ferrari reckons came too late to affect him.
Fernando Alonso, running right behind Hamilton when the safety car came out, finished in ninth, having respected the safety car rules.
Massa said he was not interesting in joining the controversy, but he did call for changes to stop that from happening again.
"I don't particularly want to go over what happened after that, because it changes nothing in that our race was ruined," said Massa on Ferrari's website.
"However, what happened needs to be looked into because it is not normal than someone commits a serious infraction like overtaking the safety car, when there is a dangerous situation on track and is not really penalised in practical terms.
"We must talk about this together and do something to ensure a situation like this does not happen again. The team has told me that, next week there will be a meeting of the Sporting Working Group: that's good and it's an obvious indication that the FIA is paying close attention to the matter."
The Brazilian, who failed to score in Sunday's race, admitted he was very encouraged by the pace of his Ferrari following the introduction of a big upgrade package.
"Looking at the actual performance of the car over the weekend, I have to say the updates to the aero package and revised exhaust system resulted in the F10 making a good step forward, allowing us to fight for the front places," he added.
"Now it is important to keep pushing on the development front all the way to the end of the season."