Drivers urged not to judge wing rule
| | |
| --- | --- |
| By Jonathan Noble | Sunday, June 27th 2010, 10:49 GMT |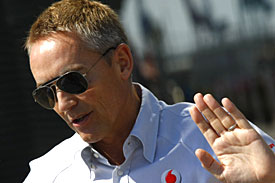 Formula 1 fans and drivers have been urged to wait and see the moveable rear wing in action before judging if it is good or bad for the sport.
A number of drivers have expressed severe reservations about the wing idea that is being introduced for 2011 - which will be activated to help a driver to overtake a slower car ahead of him if he can get close enough on a certain section of a track.
But despite the criticisms, McLaren team principal Martin Whitmarsh thinks it right the sport is experimenting with such a radical idea Ė and admits that, if it does not work, teams should not be afraid of ditching the concept totally.
"We will see whether people are convinced by it or not," said Whitmarsh in Valencia. "I think we are damned if we do and damned if we don't.
"A lot of people were saying, 'when are we going to do something?' There was a lot of fan-based pressure to do something and this [the wing idea] is something that we believe can be implemented fairly, simply and safely.
"I think we have to do a little bit more work on deployment, and the sporting regulations that accompany it. If we get that right then we will give it a go. If we are wrong then we will stop using it and we will fix it in one place. But I think it is right to experiment a little.
"I think we have a great show, we should be careful not to spoil it, but we should always be thinking about how we create some entertainment. Both Lewis and Jenson have showed this year that you can overtake in F1 cars."
He added: "The nice thing is, there was a lot of discussion, the experts came up with the idea, we've agreed, and we are pushing it through. I think we should not be so arrogant that, if it detracts and isnít right, then it is easy to take it off and fix the rear wing. But letís have a look at it, letís have a bit of an experiment."
As well as the moveable rear wing and the ban on double diffusers and F-ducts for 2011, there has also been suggestions that new tyre supplier Pirelli could provide rubber that helps spice up the show next year.
When asked whether Pirelli should be ultra-aggressive with tyre selection, Whitmarsh said: "We like talking about improving the show. The show has been fantastic this year and I am sure we will have a good race in Valencia. We must not keep this obsession with improving the show.
"We have to always make sure we have a good show. We have a great show at the moment, we have a great world championship fight. There were measures already announced like the rear wing, and the tyres play a part. They gave some interesting challenges at the last race.
"Our drivers did a fantastic job in that last race in conserving tyres and making the right calls. Pirelli though are quite a different organisation and company than the Pirelli we witnessed nearly 20 years ago, so I am sure they are going to do a good job. They can contribute to the entertainment in F1, but I think what we need is some consistent tyres and the drivers will put on a good show."