| | |
| --- | --- |
| Stoner hopes for more grip in race | |
| | |
| --- | --- |
| By Simon Strang and David Emmett | Saturday, June 19th 2010, 20:34 GMT |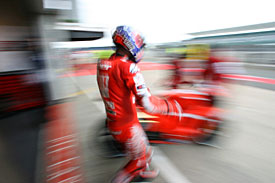 Casey Stoner's hopes of scoring his first MotoGP victory of the season on Sunday rest on Ducati finding a solution to the tyre heating issues that have haunted the Australian throughout practice and qualifying at Silverstone.
The 2007 world champion could only manage sixth on the grid, 1.086s off the pole time set by Jorge Lorenzo. But afterwards Stoner explained that he had been struggling to maintain heat in his tyres all day and that this had contributed to his lowly starting position.
"We tried running hard tyres but unfortunately we are just not generating temperatures, so we had to use basically our qualifying tyres to try and find a race set-up with our softer option," he said. "We are probably going to run with the softer option in the race, unless we get a lot more temperature and then we can run with the hard tyres.
"We are not worried about them lasting the race, the tyre are perfect, they are doing a lot of laps without any problems. But then basically I only had one qualifying tyre and we weren't able to do anything with that.
"I went in to my first qualifying lap and Espargaro just cut me off at the first corner so I lost that whole lap and in the second one I just couldn't quite generate the grip so... We are struggling a little bit just to get the tyre temperatures up.
"We've been working for most of today on that but it seems the more laps we do the worse the tyre temperature becomes and then we start having big grip issues, mainly on the left side. This is probably one of our biggest issues at the moment."
Stoner explained that Ducati had tried to compensate for the GP10's dislike of Silverstone's bumps by softening up the suspension but this had in turn made it difficult for him to generate heat in the tyres.
"We tried putting a little bit more force in the rear but it didn't really work and we lost too much turn on the exit of the front," he explained. "The air temperature is just really cold and it is making things difficult for us.
"We can hope for higher temperatures tomorrow but we are trying some different things in the morning anyway just to put a bit more load on the bike. We tried a few things this morning and we had a very good set-up immediately this morning and each setting we did after that wasn't in the right direction. We only figured out this afternoon that we need to put a lot more pressure on the front and rear because we are running at least 10 degrees less than everyone else.
"It makes it really difficult to understand where the bike is going to be and what it is going to do. I'm just losing a bit of confidence really."
Despite his problems Stoner says he is confident the bike will behave better in race trim over 20 laps.
"For me we are in a much better situation than Mugello," he said. "There we had unbelievable qualifying lap but a terrible set-up for the race. And here it is the opposite, we have a much better set-up for the race than what it looks in qualifying.
"It's going to be a tough race tomorrow.
"We are not too far from the pace but we haven't strung enough laps together. If we can find a few tenths tomorrow then we might be in with a shot but looking at the lap times from Jorge it was impressive so he might have it wrapped up, and you never know what the weather might bring in as well."