| | |
| --- | --- |
| Riders give Silverstone early thumbs-up | |
| | |
| --- | --- |
| By Simon Strang | Thursday, June 17th 2010, 19:27 GMT |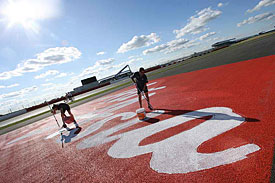 MotoGP's frontrunners have given a cautious thumbs-up to the new Silverstone Grand Prix layout after getting their first experience of the track on scooters prior to first practice tomorrow.
Ducati's Nicky Hayden described the Northamptonshire venue, which plays host to motorcycle racing's premiere category for the first time in 24 years, as "fast and flat", adding that the layout "looked good".
Championship leader Jorge Lorenzo said that Silverstone felt like a "new'" venue and described it as "beautiful", while Marco Melandri said: "The track looks amazing - my first impression is that it looks like a very good MotoGP track.
"It looks very, very good and difficult," he added. "I think when you go on the scooter you think you can make some lines but when you go on the bike it is going to be very different."
Hayden pronounced it too soon to pass judgement on the circuit, but added that from what he had seen so far, he was happy to race on the 3.666-mile revamped track, which now sports the new 'Arena Compex'.
"I went around it on a scooter, but until you go around it behind that bubble you don't really know - everything changes at speed," he said. "It looks fast. It also looks a lot better than it did this morning, when it was really dirty out there. It didn't look finished, they were out there patching holes and stuff. But they've cleaned it up and painted the kerbs.
"I have no concerns with anything. They normally listen to us and we might want to make some changes for next year, but it looks plenty good to me right now."
Hayden believes that the circuit could suit his GP10, but that crosswinds could play a factor in the performance of different bikes.
"Our bike is fast and it likes tight hairpin corners," he said. "It works pretty good on fast tracks like Phillip Island. The wind does affect us. Also we don't like the bumps and it seems pretty bumpy, but you can't really predict too much."
Mugello race-winner Dani Pedrosa concurred with his former HRC team-mate's assessment about Silverstone's speedy feel: "I see already that the track is fast. It has three or four very long straights.
"The new part has some very fast and very slow corners," the Spaniard added. "But in general I think it is a fast track. I have just tried to get the impression of which gears are in which corners more-or-less to get a starting point for tomorrow."