Vettel says no reason to panic
| | |
| --- | --- |
| By Jonathan Noble | Monday, June 14th 2010, 13:44 GMT |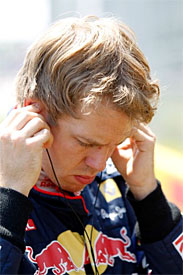 Sebastian Vettel has told his team that there is no reason to panic about its current situation in Formula 1 - despite seeing main rivals McLaren surge to the top of the championship standings.
Red Bull Racing had begun the season as the team to beat, but reliability troubles and a controversial coming together between its drivers in Turkey have allowed McLaren to take charge in the world title table.
And although Vettel has faced the brunt of the troubles this season, which included a gearbox problem that slowed him in Canada, he says he is keeping a positive mood ahead of the next race in Valencia.
"Coming into this weekend people did not give us a lot of chances, we were not the favourites," said Vettel, who has won just one race so far this season.
"We had very good pace, if not the best, but we could not show it with the strategy we had, as the way it turned out was not to our liking.
"But you can see how quickly things can change in this sport. With two good races you're back or not. If you convert the points to the old system then you can see the gap is not very big, and the gaps might look bigger than they are.
"I would say there is no reason to panic. We are looking forward to the next race - we expect a step forward from our side and some new parts."
Red Bull Racing is hoping the updates it plans to bring to its car for Valencia will allow it to challenge McLaren and Ferrari more on that type of track.
Mark Webber believes that the team's struggles in Canada were simply because of the circuit characteristics not playing to the strengths of its RB6.
"This is a one-off race," he said. "It is not the end of the world by any means. We expected it to be a tough venue for us, and we were closer than we thought.
"We are looking forward to a lot of other races on the calendar, and the team has done very well up to now."