Q & A with Timo Bernhard
| | |
| --- | --- |
| By Simon Strang | Wednesday, June 9th 2010, 15:50 GMT |
Formerly a star of Porsche's sportscar line-up, Timo Bernhard is going into his second Le Mans 24 Hours as an Audi driver this weekend, sharing the #9 car with Mike Rockenfeller and Romain Dumas.
He told AUTOSPORT how preparations were going, and what he had gained from contesting the Spa round of the Le Mans Series in the new Audi R15 TDI Plus.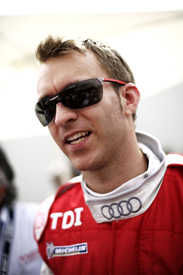 Q. Were you happy with Audi's pace at Spa considering you were using the Le Mans downforce package?
Timo Bernhard: Le Mans is so special a racetrack and you can never test here. Before the Wednesday practice you never really know where you stand. You can go to simulators, you can go to racetracks that are quite close to Le Mans and test, but you will never get a real feeling before you come here. So we really don't know where we stand compared to the Peugeots, and I'm sure the Peugeots don't know where they stand compared to us. Until Thursday we won't know, but I have a good feeling.
Q. What did you learn from Spa?
TB: For me personally, my last race with the Audi was last year at Le Mans so it was good for me as I haven't been in the car for a long time, apart from testing. It was very important for me to have a race weekend before [Le Mans] to get accustomed to the car, the crew and my team-mates. Romain's been with me a long time, but not Mike, so we need to be one team together. It's something different at a race weekend, it's like a real test. I think it's shaped us a little bit more and we got more performance out of the #9 as we all gelled together a little bit.
Apart from that, it was good for us to finish the race. We had some problem with the red light in the pits so we lost one lap due to that, but I think we were running a good race and I'm more prepared for Le Mans this year than I was last year.
Q. Do you find that sometimes it's better to have a problematic race in the build-up because you learn more?
TB: We finished, and I think with the small things we had at Spa, it was a good performance, a good weekend for us. In qualifying we were best Audi and that was good. In the race we were quite okay actually.
At the start already when I accelerated, me and [Pedro] Lamy went into turn one, and I saw him very early and he started to spin, and I thought 'oh no...' Then I had someone on my inside and knew if he moved over, I would hit Lamy. So he just spun in front of me. It was already a big disaster at the first corner.
Then when I came up to Eau Rouge, it was so slippery you cannot imagine. I saw the brake lights on the Peugeot in front of me going into Eau Rouge, thought I'd brake a bit more to be safe, and when I turned from left to right, I got a snap... I had the feeling I was already slow, but it was still too fast for the corner. It was so slippery.
Q. Is there a point in those conditions where the downforce stops working?
TB: Obviously at Spa [Peugeot] ran more downforce than us because they were doing a set-up specific for the track and we were running Le Mans levels. For sure in those conditions it was worse for us. If you have more downforce, you keep more temperature in the tyres. If it had stayed dry at the start of the race, it would've been better for us.
Q. What did Audi learn about the low downforce package and how it works with the tyres, that you think might be a benefit here?
TB: For sure you learn how the car works, and if you do little steps through the weekend on the set-up, you know how the car will handle in different conditions. I think that's what we learned at Spa. A 30 hour long run is a different situation to a race weekend, because in a race if you come up to traffic and you have three GT cars and an LMP car in front of you, it might affect the aero differently than if you're running alone on track. It's stuff like this that was important to see.
Q. Do you think Audi is better prepared for Le Mans than last year?
TB: I think in the end, yes. Personally for me, I'm much more prepared. Also I have more experience. But for sure we're better prepared. Everything is more calm now.
Q. The car itself is still very new. Do you think there's a lot more potential to come, whereas Peugeot is reaching its limit with the car?
TB: It's hard to say. I think we did good steps with preparing for Le Mans this year. Already now out of the box we shouldn't be far away from our optimum. That's the feeling I have. But Le Mans is so special that you really cannot compare it to Spa. You have a lot of asphalt changes here and a lot of different corners that you never have on other tracks.
Q. Are there particular instructions for each car, or just go as fast as you can?
TB: At the moment we haven't spoken about the race in detail, but so far we do our own race.
Q. What would it mean to you if your car came out on top among the Audis and beat the #7 crew?
TB: First of all I have a lot of respect for them. You can see how many races they've won here and they have so much experience. To be honest as well, I'm 29 years old and I've also done a lot of long distance and prototype racing, but I can still learn something from these guys. I have my eyes and ears open so I can get better as a driver as well. If we can do the same speed as them or fight with them in the race, for sure that will be good for us.
Q. Personally, if you take the trophy home, what will that mean to you?
TB: It will be a big dream come true. I've said a lot of times that this is the one race that's missing in my CV. I've won Daytona overall, I've won the 24 Hours of the Nurburgring, I've won Sebring, so really this is the race in my career that I want to win at least one time.
Q. As a kid, were you looking towards Formula 1 or sportscars?
TB: Obviously it was Formula 1 when I was a kid. It's the highest class you can get. But I remember I had a video game from '89 called Le Mans, and at that time it had a 962 Porsche and to drive here was for sure a childhood dream. Just to drive here in an LMP1 car was a dream come true. To be on top of the podium would really be a dream.