Capello: Audi in better shape than '09
| | |
| --- | --- |
| By Simon Strang | Wednesday, June 9th 2010, 15:06 GMT |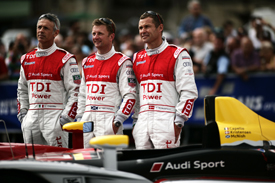 Three-time Le Mans 24 Hours winner Rinaldo Capello says he feels as confident of his chances of success at La Sarthe this year as at any time during his sportscar career.
The 45-year-old Italian, who shares the #7 Audi with eight-time winner Tom Kristensen and twice victor Allan McNish, told AUTOSPORT that a recent successful test at Paul Ricard and the high state of readiness of Team Joest have made him believed that Audi's new R15 TDI Plus is strong enough to wrest control of the 24 hours honours back from arch-rival Peugeot.
"I have raced in the past when the feeling was not really very good," said Capello. "I have other races, like in 2003 when we won with Bentley where the feeling was unbelievably good before the race.
"This year I have more or less the same kind of feeling. I am confident. I know that we have worked hard and we have arrived here at Le Mans really prepared."
Capello added that Audi's downfall in 2009, where the same crew finished a distant third behind two of the factory 908 HDi FAPs, was down to the R15 programme running late and the team not having time to test extensively prior to the race.
"If we look back 12 months we cannot compare the atmosphere, because in 2009 we were running late," said Capello. "The latest details of the car had been fixed just before the race, and that is something which can not happen at Le Mans, because you do not win here if you are not 100 per cent prepared.
"This year I have the impression, I am sure, that we are 101 per cent prepared and I am looking forward to driving. For sure, because we did the last test just a few days ago, from my side it would be nice to have a chance to drive a little bit in dry conditions like it should be in the race to make sure the car is how we think it should be.
"Tomorrow that seems impossible because the weather forecast is very, very bad," he added. "We should get quite bad weather to the end of the first four hours today as well.
"But we would like to have the chance to do some laps in the dry to have a confirmation of what we think is the best set-up for the race."